Regional Director of Small Business Development Center at William Paterson University Receives State Star Award at National Conference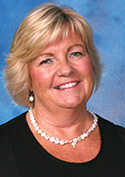 Kate Muldoon
Kate Muldoon, the regional director of the New Jersey Small Business Development Center (NJSBDC) at William Paterson University in Wayne, N.J., will receive a "State Star" award in recognition of her contributions to the program.
The recognition will take place at the 33rd annual Association of Small Business Development Centers national conference in Orlando, Florida in September 2013. One award recipient was selected by each statewide SBDC network for contributions to the mission of the Small Business Development Centers program. Fifty-plus honorees are being recognized at the formal gathering in Orlando.
"This award is truly appreciated," said Muldoon. "Recognizing the contributions made for small business ownership and entrepreneurship is very rewarding. Helping others succeed in reaching their dream is our Center's goal and objective."
Muldoon oversees the NJSBDC at the University, delivering technical assistance and services to small business owners and entrepreneurs in Passaic County. Muldoon has led the Center at William Paterson since June 2004. She previously worked in the financial services industry for more than 20 years in various capacities including management, operations, sales, and relationship management.
"Kate has contributed to ensuring that our small business clients in Passaic County succeed," NJSBDC CEO-State Director Brenda Hopper stated. "She sees to it that the NJSBDC at William Paterson provides quality services for those business owners who seek our help."
"This is a tribute to her expertise and dedication to our small business mission," added NJSBDC COO-Associate State Director Deborah Smarth. "This recognition is truly deserved."
The William Paterson University SBDC office is located at 131 Ellison St. in Paterson. To see a list of programs offered, visit http://www.wpunj.edu/sbdc.
09/09/13