Deborah Zastocki, President and CEO of Chilton Hospital, Appointed to William Paterson University Board of Trustees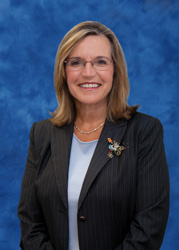 Deborah Zastocki, president and CEO of Chilton Hospital in Pompton Plains, has been appointed to serve on the Board of Trustees of William Paterson University in Wayne, New Jersey. Trustees are appointed by the governor on the advice and consent of the State Senate.

"We are delighted that Deborah Zastocki is joining our Board of Trustees," says Kathleen Waldron, president of William Paterson University. "As the first woman president of Chilton, she has focused on personalized patient care and implemented advancements at Chilton that have become industry models. Her experience as a state-wide leader in health care brings valuable expertise to our University, so noted for its nursing and allied health programs."
Zastocki has served as president and CEO of Chilton Hospital since 2004. She has been with Chilton since 1990, initially as vice president of patient care services. Zastocki has also served the hospital as senior vice president for clinical services and operations, as well as chief operating officer/chief nurse executive before her current position of president and CEO. Prior to joining Chilton, she served in administrative positions with Newton Memorial Hospital and St. Clare's Health System.
In 2002, Zastocki advanced to Fellow status in the American College of Healthcare Executives in recognition of her significant contributions to the field of health care, an honor that is considered the pinnacle of achievement in healthcare management. She has served as president of the Association of Health Care Executives of New Jersey (AHENJ), receiving its Annual Distinguished Service Award in 2005.
Zastocki's numerous accolades include the 2010 NJBIZ Best 5 Women in Business Award, Garden State Magazine's 2008 Woman of the Year Award for Healthcare, Executive Women of New Jersey's 2006 Salute to the Policy Makers Awards Dinner Honoree. In October 2012, she is one of 19 nurses statewide who will receive the "Diva" award from the Institute for Nursing, the Foundation of the New Jersey State Nurses Association, for making an extraordinary impact on the nursing profession and the health community.
She has served many community and professional organizations, including the New Jersey Hospital Association Policy Development Committee, the American College of Healthcare Executives Programs, Products and Services Committee, and the Tri-County Chamber of Commerce. She is the coauthor of Health Care: A Technical Manual for the Professional Nurse and Home Care: Patient and Family Instructions.
Zastocki earned a bachelor of science degree in nursing with highest distinction from the University of Rhode Island. She earned a master of arts degree in nursing and a master of education degree in community health, both from Columbia University, and a doctor of nursing practice degree from the University of Medicine and Dentistry of New Jersey.
# # #
09/28/12