Grand Opening Ceremony Held for Center for Chinese Art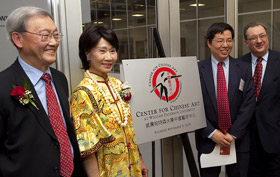 Center for Chinese Art Launches New Web Site
The lobby of the Ben Shahn Center for the Visual Arts was buzzing with excitement as a large group of honored guests, faculty and staff gathered to celebrate the grand opening of the University's newly established Center for Chinese Art on Monday, March 8. [View photos from the event]
The Center, made possible by a $150,000 donation by Margaret Lam and David Yen, serves students and members of the community by providing the opportunity to broaden their understanding of Chinese art and culture through ongoing programs and events.
The University's president, Arnold Speert, welcomed the guests. "The Center is a symbol of a new beginning, and is a permanent home to study Chinese culture at William Paterson," he said. "The Center gives a creative flourish to the University that will last for years to come, and builds on a relationship that goes back more than thirty years when we first connected to Anhui University, that continues to grow through our Global Financial Services Institute."
"Today is the happiest day in our lives," said Lam. "It has been my dream to bring an understanding of Chinese culture to the U.S. since I came here forty-three years ago. We feel proud and grateful for the University's support in creating such a lovely Center."
"We all know that China has a long and colorful history," added Yen. "China is back on the world stage, and this Center gives us the opportunity to enjoy Chinese culture."
The day's events included a printmaking workshop presented by several visiting Chinese artists, and the Center's director, Zhiyuan Cong, William Paterson professor of art, and a symposium where the issue of Chinese painting in the new century was discussed. A ribbon-cutting ceremony, and a banquet capped the day's events.
The Center is located in room B 100 in the Ben Shahn Center for the Visual Arts.
03/15/10