William Paterson University Alumnus Karen Cheney, MEd '79, Donates $50,000 for Endowed Scholarship in Honor of Retired Professor Joan Feeley
Graduate and former adjunct professor of education makes gift to say 'thank you' to her alma mater and the teacher who inspired her most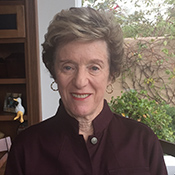 Karen Cheney, MEd '79
"I was there in the 1970s and 1980s. It meant a lot to me – William Paterson. It changed my life. Every time I talk to someone from William Paterson, I get tears in my eyes. I have tears in my eyes right now. I really loved it there. "
Such are the words of Karen Cheney, MEd '79, former adjunct professor of education who recently established The Joan Feeley Endowed Scholarship. Cheney donated $50,000 which will be used to provide an annual award for a fulltime undergraduate or fulltime/parttime graduate student in the University's College of Education. Each year's selected applicant will receive at least $1,000 toward his or her studies.
Since 2010, the University's scholarship endowment has grown nearly 122 percent, increasing from $3.2 million to $7.1 million.
The newest scholarship is named after a now-retired professor of education who had a profound impact on Cheney – Dr. Joan Feeley, professor emeritus.
"I took many classes with Dr. Feeley and got to know her beyond the classroom. I would meet her at the International Reading Association," Cheney recalls. "She was a mentor and an inspiration to me. Everyone I know who lived in my hometown of Fair Lawn, New Jersey knew of Dr. Feeley because I would always talk about her."
When Cheney first graduated with her master's degree, she began teaching in her hometown's public school system. Inspired by her beloved professor, she later decided to apply for a position as an adjunct at William Paterson. A few years as an adjunct at the University eventually lead to a 30-plus-year career in higher education spanning numerous colleges, and "it's all because of Dr. Feeley."
Cheney worked for 20 years on the campus of Ramapo College and has spent the past 13 years teaching reading and basic skills at The College of the Desert in California, where she and her husband have since relocated.
"I'm 150 years old and still doing it," Cheney jokes of her beloved career in higher education. "Sometimes we don't realize how people affect our lives, but I know how she affected mine. She was a really strong force when she was teaching."
Cheney says she had never considered creating a student scholarship in a professor's name until she heard about such a gift in California. "And I just thought it would be terrific," she explains. "If I could do this, it was something I wanted to do."
And, in so doing, thanks to the University's Office of Alumni Relations, her relationship with Feeley has been rekindled. Coincidentally, Feeley has also relocated to California. She currently resides in an assisted living facility there.
Feeley was more than moved by the news about the scholarship.
"I am incredibly honored," she says. "This is the most wonderful thing, to have this done to help future students."
"I'm just very happy about all of this," Cheney adds. "It's heartwarming."
01-21-17
01/20/17