Robert Taylor Named University's First Trustee Emeritus
Taylor recently retired from the University's Board of Trustees and was recognized for his 22 years of service and dedication.
The William Paterson University Board of Trustees has recognized twenty-two years of dedicated service to the board by Robert Taylor by electing him the first trustee emeritus in the board's history in a resolution read on November 30 during the board's meeting.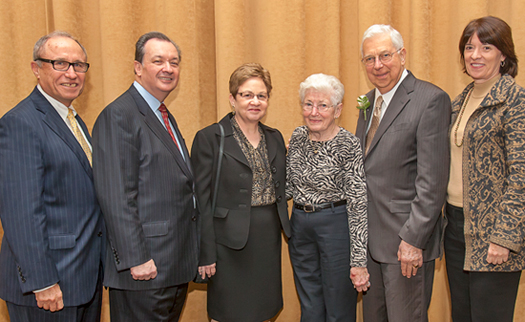 Present at the event were (from left) Fred Gruel, chair, Board of Trustees, Arnold Speert, retired president, William Paterson University, Myrna Speert, Eleanor Taylor, Robert Taylor, and William Paterson University President Kathleen Waldron
Taylor retired in June after serving with distinction as board chair, vice chair, and chair of the finance, audit, and institutional development committees, and the nominations and governance committees. He was a member of the student affairs committee, and also served as chair of the University's recent successful presidential search committee which resulted in the appointment of Kathleen Waldron as president of the University.
In the resolution the board recognizes Taylor's "wisdom and good counsel on matters relating to higher education in New Jersey through his active participation on the board of the New Jersey association of colleges and universities…and his exemplary service to the University and to higher education in the state of New Jersey."
It was Taylor's collegiality, wisdom, and trustworthiness which endeared him to fellow board members and the new president.
"Bob Taylor is the epitome of a senior statesman--a true gentleman who has done so much to provide superb leadership for William Paterson, and, I truly believe, is one of this University's biggest fans," says President Waldron. "Upon my arrival here two years ago last August, Bob quickly became a touchstone for me, giving me sage advice and good counsel that was just a phone call away. His institutional memory is phenomenal--and what a help that has been over the last two years. Bob always spoke from the perspective of what was best for this institution."
Former University president Arnold Speert said Taylor refused to accept the status quo.
"He pushed us to improve," Speert says. "I know it helped me to sharpen my ability to think about ideas and issues. His background at AT&T led him to champion facilities, including the idea of a residential campus and all the construction we did that transformed the campus. Additionally, he has a strong sense of community that guides his view of board work…with an emphasis on respect for the institution."
12/11/12