Philanthropists Basem and Muna Hishmeh, Alumna Patricia Powell '73, and UPS Honored During William Paterson University's Twenty-Third Annual Legacy Award Gala on April 4
Philanthropists Basem and Muna Hishmeh, alumna Patricia Powell '73, and UPS, honored by the William Paterson University Foundation.
Philanthropists Basem and Muna Hishmeh, alumna Patricia Powell '73, and UPS, were honored by the William Paterson University Foundation during its twenty-third annual Legacy Award Gala on Thursday, April 4, 2013 at The Grove in Cedar Grove. The gala is the Foundation's event to raise funds to support the University's mission of promoting student success and academic excellence.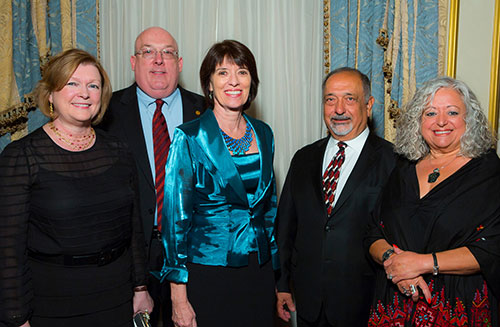 Patricia Powell of Gladstone, president, Powell Financial Group; Don Sheridan, vice president, application development, UPS; Kathleen Waldron, president, William Paterson University; Basem L. Hishmeh of Montvale, president, Muna and Basem Hishmeh Foundation; and Muna Hishmeh of Montvale, vice president/secretary, Muna and Basem Hishmeh Foundation.

View Flickr photostream from event

"I am privileged to recognize those we are honoring," says Pamela Ferguson, vice president for institutional advancement, and president of the William Paterson University Foundation. "Each has made a significant impact on the William Paterson University community. Their partnership and friendship have made it possible for us to fulfill our mission of academic excellence and student success. We are proud of their leadership as they serve as role models for our students."
Basem and Muna Hishmeh, residents of Montvale and Hallendale Beach, Florida, were honored as Distinguished Friends for their dedicated philanthropic activities. They founded the Muna and Basem Hishmeh Foundation in 2005 to provide support to children in the United States and Palestine. The Foundation supports numerous educational and cultural programs at William Paterson University, including a Music After School Program which provides opportunities for children in the Paterson middle schools, and a jazz music exchange program with the Edward Said National Conservancy in Palestine. Basem Hishmeh was chairman of New Jersey-based manufacturing companies AERCO International and Sigma-Netics. He was chairman of the Association of Manufacturing Excellence.
Patricia Powell '73 of Gladstone, honored as a Distinguished Alumna, is a certified financial planner and president of her own independent financial planning and wealth management services firm, The Powell Financial Group, Inc., managing more than $140 million for her clients. She found success through coaching her clients through the thought process of how to allocate the resources they have for whatever their needs are—retirement, helping their elderly parents, or paying for college. After a career in banking, she founded her company in Martinsville in 1991. Powell is now sharing her knowledge with the next generation of financial planners as an adjunct professor in the University's Cotsakos College of Business.
The foundation honored UPS, a global leader in logistics, as a Distinguished Corporation. UPS has been a corporate sponsor to the University for the past 23 years. Their support for the University includes providing internship opportunities and entry-level positions, as well as funding for many of the University's key initiatives that support the surrounding communities. Headquartered in Atlanta, they have offices in Wayne, Mahwah, and Paramus.
William Paterson University, one of the nine state colleges and universities in New Jersey, offers more than 250 undergraduate and graduate academic programs through five colleges: Arts and Communication, the Cotsakos College of Business, Education, Humanities and Social Sciences, and Science and Health. Located on 370 hilltop acres in Wayne, the University enrolls 11,500 students and provides housing for approximately 2,600 students. The institution's 400 full-time faculty are highly distinguished and diverse scholars and teachers, many of whom are recipients of prestigious awards and grants from the Fulbright Program, the Guggenheim Foundation, the National Endowment for the Humanities, the National Institutes of Health, the National Science Foundation and the American Philosophical Society.
04/29/13