Lourdes Cortez, President and CEO of North Jersey Federal Credit Union, Appointed to William Paterson University Board of Trustees
Cortez, who began her professional banking career in 1984 at North Jersey Federal Credit Union, learned banking from the ground floor up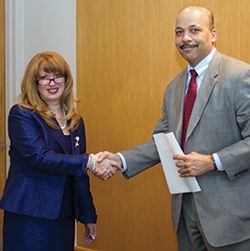 Lourdes Cortez and Glenn Jones, General Counsel to the University and the Board of Trustees
Lourdes Cortez, president and CEO of North Jersey Federal Credit Union, has been appointed to serve on the Board of Trustees of William Paterson University in Wayne. Trustees are appointed by the governor based on the advice and consent of the New Jersey State Senate.
"We are honored that Lourdes Cortez has agreed to serve on our Board of Trustees," says Kathleen Waldron, president of William Paterson University. "She brings a unique combination of skills, including many years in the financial industry, significant management experience, and a deep commitment to her native community of Paterson, as well as the entire North Jersey region, and we look forward to her advice and perspective."
Cortez began her professional banking career in 1984 at North Jersey Federal Credit Union. She learned banking from the ground floor up, first as a financial services representative, then as a mortgage officer, a loan department supervisor and loan collections manager. She was later promoted to vice president of operations and in 2004, was named senior vice president. She was appointed president and CEO In 2005.
Dedicated to being involved in the community, Cortez serves on the board of the Workforce Investment Board of Passaic County, as President of the Board of Directors for the Boys and Girls Club of Paterson and Passaic, and on the board of Visions Academy Charter School in Newark. She is the chairperson for the North Jersey Federal Credit Union Foundation and assistant treasurer for Executive Women of New Jersey. She has volunteered for numerous organizations including La Casa De Don Pedro, the March of Dimes, Eva's Village in Paterson, and the American Cancer Society, and served on the board of the United Way of Passaic County.
The first Latina CEO of a credit union in New Jersey, Cortez has been honored by NJ Biz magazine, which named her one of the Top Fifty Business Women of New Jersey. Other awards include the North Jersey Regional Chamber of Commerce 2010 Star Award in Business, the 2010 Salute to the Policy Makers Award from Executive Women of New Jersey, and the 2012 Women of Achievement Award from the Girl Scouts of Northern New Jersey.
She is former president of the Northern Chapter of the New Jersey Credit Union League and a member of the Commerce and Industry Association of New Jersey, the Hispanic Chamber of Commerce, the Network of Latino Credit Union Professionals, and the North Jersey Regional Chamber of Commerce.
02/25/14