New Jersey Artist Dahlia Elsayed Explores Intersection Of Painting And Writing In Site-Specific Installation At William Paterson University Gallery
--Installation inspired by William Carlos Williams poem, "Paterson"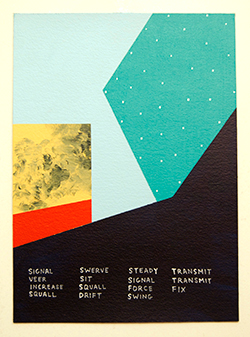 New Jersey artist Dahlia Elsayed reexamines the interconnectedness of writing and painting in a new, site-specific installation, Navigations in the Present Tense, on view in the University Galleries in the Ben Shahn Center for the Visual Arts at William Paterson University in Wayne from November 4 through December 13, 2013. Gallery hours are Monday through Friday from 10 a.m. to 5 p.m., and on November 10, 17 and 24 and December 8 from noon to 4 p.m. Admission is free. An opening reception for the exhibition will be held on Sunday, November 3 from 2 to 4 p.m. Elsayed will give an artist talk on her work on Tuesday, November 19 at 12:30 p.m. in the University Galleries.
Language is central to Elsayed's work, both as formal element and subject matter. For more than a decade, she has been making text and image-based work that synthesizes an internal and external experience of place, connecting the ephemeral to the concrete.
For this new site-specific installation, she found inspiration in the writing of New Jersey author and poet William Carlos Williams. She previously created Paterson Landscapes (2001-02), a series of paintings inspired by Williams's poem "Paterson," and revisited the subject for this exhibition. Elsayed conducted research on Williams at the library in Rutherford, the poet's hometown, and also visited Paterson—strolling, listening, observing, and conversing in this post-industrial city. A poem she wrote to accompany her work incorporates several citations of Williams' own words that capture what Elsayed describes as, "Williams' fluctuations between doubt and drive, his idea of the city as a metaphor for man, and his use of mosaic structure—mixing in letters, historical documents alongside his own prose."
Inspired by a recent residency at the Joan Mitchell Foundation in New Orleans, she adopted harder edges and bold colors such as orange, whose association with construction signage and barriers suggests a transitional state. These recent compositions fuse multiple perspective points: looking up, down, sideways, and inside from both close-up and far away.
Elsayed integrates text as a footnote or a list of things rather than an overarching word that defines the composition. As a result, the reader is drawn into the juxtaposition of words, the sounds of reading them aloud (alliteration in some cases), and the visual and mental associations they conjure. Her new language is specific to a place, landscape, experience, and a moment in time.
Language further evolves in an accompanying publication that pairs a handful of diminutive compositions with her poem. The colorful abstract compositions mimic stanzas of a poem, where pauses and breaks can be used to emphasize words or images around them. The arranged forms evoke sky, sun, horizon, architecture, and water.
Elsayed is a graduate of Barnard College with a bachelor's degree in English, and earned a master of fine arts degree in creative writing from Columbia University. Her paintings, prints and artist books have been shown at galleries and art institutions throughout the United States and internationally, including exhibitions at the 12th Cairo Biennale, BravinLee Programs, Clementine Gallery and the Jersey City Museum. Her work is in the public collections of the U.S. Department of State, Johnson & Johnson Corporation, The Jersey City Museum, Zimmerli Art Museum, Hunterdon Museum of Art, Noyes Museum of Art, Montclair Art Museum, Newark Public Library, New Jersey State Museum, and Morris Museum. A large number of her works were commissioned for the permanent collection of the Ritz Carlton Hotel in New York. Elsayed has received awards from the Edward Albee Foundation, Visual Studies Workshop, The Newark Museum, ArtsLink, The Dodge Foundation, Women's Studio Workshop, Headlands Center for the Arts, and The New Jersey State Council on the Arts.
The exhibition is one of three on view concurrently in the University Galleries. Without Adornment: Photographs by George Tice, on view in the South Gallery, presents gelatin silver prints from the renowned New Jersey photographer's early Paterson series, as well as platinum/palladium prints, in celebration of Tice's 75th birthday. On view in the East Gallery are nineteenth century paintings from the University's permanent collection.
This exhibition is made possible in part by funds from the New Jersey State Council on the Arts. The William Paterson University Galleries are wheelchair-accessible. Large-print educational materials are available. For additional information, please call the William Paterson University Galleries at 973-720-2654.
10/25/13