Young Nursing Alumni Appointed to U.N. Committee
Ashley Perone '11 and Raissa Lynn Sanchez '11, officers of the Iota Chapter of Sigma Theta Tau (STTI), the international honor society of nursing, have been appointed to a two-year term as STTI youth representatives to the United Nations (U.N.)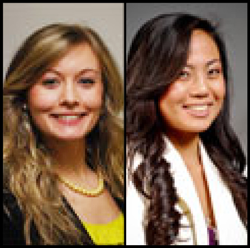 Ashley Perone '11 (left) and Raissa Lynn Sanchez '11
Ashley Perone '11 and Raissa Lynn Sanchez '11, officers of the Iota Chapter of Sigma Theta Tau (STTI), the international honor society of nursing, have been appointed to a two-year term as STTI youth representatives to the United Nations (U.N.)
Perone and Sanchez earned bachelor's degrees in nursing and are registered nurses. Under this new program, they will represent STTI, a non-governmental organization, at the U.N. As youth representatives, they will receive ground U.N. ground passes and invitations to briefings and other meetings designed specifically for youth leaders.
They will work closely with STTI representative Holly Shaw Ph.D., R.N., and Dr. Tara Hulsey, chairperson of the U.N. and Global Health Advisory Council. Sanchez will communicate with STTI members with blogs posed on RNL and will tweet on Twitter.
Perone and Sanchez are not new to volunteer and community service work. In their senior year at William Paterson, they joined a medical mission to the Dominican Republic, spending a week tending to hundreds of patients in different clinics, an experience they say changed their lives, becoming more self-reliant and comfortable with their skills.
"The people were so grateful and thanked us for our help," Perone says. Sanchez adds that for her it was a "spiritual experience."
12/10/12