William Paterson University's WP 88.7 FM Brave New Radio Named Best College/University Station in the Nation for Second Straight Year
--Rob Quicke, Assistant Professor of Communication and General Manager of the Station, Receives Outstanding Service Award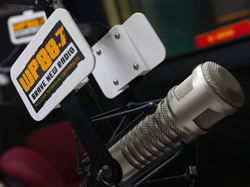 For the second year in a row, William Paterson University's student-run radio station WP 88.7 FM won the title of Best College/University Station in the Nation at the 2013 Intercollegiate Broadcasting System (IBS) awards.
In addition, the radio station won a first place award for Best Specialty Show, featuring Stephan Bisaha, Michael Schumann, and Allan Simon on "The Morning Blend," which airs on Mondays from 6 to 10 a.m. The station also ranked as finalists for Best Talk Program and Sports Talk Program. Rob Quicke, assistant professor of communication and general manager of the station, won the "Outstanding Service Award" for his dedication and service to academic broadcasting.

The awards were announced on Saturday, March 2, during the 73nd Annual IBS Conference at the Hotel Pennsylvania in New York City.

"I'm so proud of our students and absolutely thrilled that WP 88.7 FM is maintaining its reputation as the best college/university station in the nation," says Quicke. "I congratulate all the students who give their heart and soul to the station. They deserve these awards."

"We continue to be proud of the achievements of our students in radio and the leadership of the radio station and their accomplishments," says Stephen Hahn, associate provost and interim dean of the College of the Arts and Communication. "Special recognition goes to Rob Quicke this year for the "Outstanding Service Award" from IBS."

Intercollegiate Broadcasting System is a not-for-profit education association founded in 1940 that serves not-for-profit collegiate radio stations and webcasters, as well as high school and community radio stations and webcasters.
Award Winners from William Paterson University:
1st Place WINNER: Best College/University Station (more than 10,000 enrollment):
WP 88.7 at William Paterson University
1st Place WINNER: Best Specialty Show
WP 88.7 at William Paterson University: Stephan Bisaha, Michael Schumann, and Allan Simon for The Morning Blend
FINALIST: Best Sports Talk Program
WP 88.7 at William Paterson University: Courtnaey Chelf, Kyle Crooks, Allan Simon, and Dominic Papa for The Sports Drive
FINALIST: Best Talk Program
WP 88.7 at William Paterson University: Stephan Bisaha, Michael Schumann, and Allan Simon for The Morning Blend
Outstanding Service Award
Rob Quicke, assistant professor of communication and general manager of WP 88.7 FM, for dedication and service to academic broadcasting
03/04/13