Marsha DIonisio '73: Teacher's Resilience, Creativity in Hurricane- Ravaged Community Earns a 2013 People Magazine Teacher of the Year Award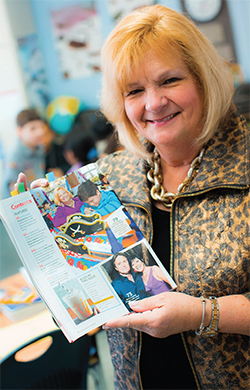 Marsha Dionisio '73 shows off one of her photos in the Oct. 2013 issue of People Magazine
By Mary Beth Zeman
When Marsha Dionisio '73 saw an article in People Magazine late in the spring of 2013 about its upcoming second annual Teacher of the Year Contest, she knew she had a story to tell. "The application said they were looking for stories of teachers who had engaged students, faced challenges, or had an impact on the community," she says.
Dionisio, who has taught in the Hugh J. Boyd Elementary School in Seaside Heights, New Jersey, for her entire twenty-nine-year career, was at that point teaching in a borrowed classroom in Bayville, ten miles away from her school on the Barnegat Bay in that iconic Jersey shore town. Due to the devastating damage caused by Hurricane Sandy the previous October, she was, like many teachers, making do with donated supplies, and trying to provide a stable environment for her students, many of whom were displaced from their homes and living in hotels, shelters, or with relatives or friends. Like her students and other staff members, Dionisio was also out of her home, living with her daughter in Toms River, unable to return to her flooded condo in nearby Ortley Beach, one of the hardest hit of the barrier island communities.
"I thought it was important to share that story," she explains of her decision to enter the contest. "At the least, I knew it would be cathartic to talk about what we had all been dealing with."
Not surprisingly, her tale of resilience—and especially her creative lesson plans, built around a well-known book, The Invention of Hugo Cabret, about an orphan boy in Paris—caught the eye of the contest judges. She is one of eight teachers who were selected for the award, which included a $5,000 prize ($4,000 for her school and $1,000 for her), an article in the October 28, 2013 issue of People, and an all-expenses-paid trip to New York City for a gala awards ceremony. She also appeared on Katie Couric's talk show, where she was surprised with a video from her students. "Winning that contest was something to be happy about," she says. "It's the highlight of my career."
Dionisio's story is like so many others. As Hurricane Sandy approached New Jersey that October, she packed up a few items, and, "dressed in sneakers and sweats," headed inland to her daughter's house in Toms River to ride out the storm, expecting to be able to return home soon. Instead, her small community of Ortley Beach was devastated, her condo complex under five feet of water. Hugh J. Boyd Elementary School, with 240 students in grades kindergarten through six, where she is a fourth grade teacher, was destroyed by major flooding, caught between the surge from both the Barnegat Bay and the Atlantic Ocean.
All across New Jersey, but especially down the shore, lives had been turned upside down. "Everyone was displaced, and evacuated to shelters or living with other relatives or friends. I lived in my grandson's bedroom for nine months," she recalls. "We had nothing, no clothes, no supplies. But eventually school had to go on. We were so thankful that we still had jobs."
Central Regional High School in Bayville, which serves high school students from Seaside Heights and was unaffected, stepped in to provide a location for the Hugh J. Boyd students, and moved some of its own classrooms to another part of the school so the elementary school students could move in. It was also a difficult transition for the young students, who were used to walking to school and now had to travel on buses, some for more than an hour.
"Our students were all over the area, so we went to shelters and worked to track them down," she says. "Dr. Parlapanides, our superintendent, made room for us in the high school, and the teachers gave up their classrooms for us. I had a room of my own because I had twenty-nine students. But we had no supplies. We had bins in the hallway to collect everything from coats to diapers and deodorant, because everyone was in need. All my lesson plans were in my old school. There were a lot of donations, but it wasn't necessarily what we needed, it was what people could give."
Faced with the challenge of keeping her students engaged, Dionisio got creative. Through the Ocean County Library she began to look for books with which she could teach her lessons."I was desperate. I had to improvise," she says. The library system was able to provide enough copies of The Invention of Hugo Cabret, by Brian Selznick, which proved to be exactly what she needed.
She used the illustrated children's novel, about an orphan, clock keeper, and thief who lives in the walls of a Paris train station, to build her lesson plans. "We read the book as literature and for our vocabulary words. We learned about Paris as a social studies lesson; the students ate croissants and talked about French recipes. They drew pictures of the Eiffel Tower for art. Since the story is about a clock, we made a clock from an appliance box and learned about how clocks work," she says. After learning in the book that the first cinematographers were magicians, the assistant principal of the high school came to the class dressed as Merlin to perform magic illusions and card tricks. "We used the card tricks for a math lesson in probability."
"She was always ahead of the curve," her principal, Chris Raichle, told the Asbury Park Press in an article about her award. "After the storm, she had new and innovative ideas, even though she had no materials whatsoever."
Dionisio, who grew up in Clifton, says she always wanted to be an elementary school teacher, and chose William Paterson for its well-regarded program. "I had a wonderful experience there," she says. "The professors were so terrific. I remember being a member of a sorority, Phi Sigma Chi, and we had our own table and banner in the Student Center, which served the best cheeseburgers and fries. I just loved it."
Today, Dionisio, who has two children, a son Nicholas, and a daughter, Stacey, who is a kindergarten teacher at her school, is paying it forward. Since January, William Paterson student Cayla Linfante of nearby Bricktown, a senior majoring in elementary education and sociology, has been a student teacher in her classroom. "She is so wonderful, so helpful, and adds so many ideas to the classroom. She is teaching me. I've learned so much about technology from her," she says. "It's important to give back to your community. And alumni teachers should pay it forward. Their experience means a lot to a student teacher."
Dionisio was the last person in her school to return to her home, but many people in Ortley Beach are still displaced. Her school has been rebuilt, and reopened last September. She is currently writing a book with her principal and superintendent that will tell how each of them—a teacher, a principal, and a district administrator—perceived the challenges they faced and how they were affected by the storm, both personally and professionally.
"There is nothing better than waking up every morning and going to a job that you love," she says. "It can't get any better than that!"
05/01/14