The VALE Consortium was developed in 1998 as a grass roots organization to develop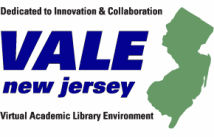 inter-institutional information connectivity and collaborative library application projects among New Jersey academic libraries. VALE's mission is to help institutions meet the demands of students and faculty for access to scholarly materials.

Cheng Library staff play an integral role in VALE. We participate in (and chair some) VALE committees and are dedicated to the work of the consortium to improve information access to our users.
Looking for the VALE databases?
CLICK HERE
and select the database you want from the directory
---
Looking for information about the VALE consortium and its other services?
(faculty reciprocal borrowing, New Jersey links, VALE members, etc)
CLICK HERE
and proceed to VALE's site.