Kathy Malanga, Assistant Director, Announces Retirement
Kathy Malanga plans to retire after more than 30 years at William Paterson University.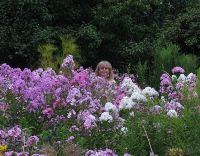 Kathy amid a field of phlox in her garden in Sussex County
After more than 30 years at William Paterson University, Kathy Malanga has decided to retire at the end of the fall 2013 semester. Kathy started working at William Paterson in 1983 as the Business Reference Librarian, a position she retains to this day – although several other responsibilities have been added along the way.
Kathy served as Coordinator of Interlibrary Loan Services and then Library Instruction Coordinator before being appointed Head of Reference, a position she held beginning in 1988 until her appointment in 1998 as Assistant Director for Access & Information Services following a major reorganization of the Askew Library.
During her tenure as Head of Reference, Kathy introduced CD-ROMS to the University through a number of "Computers in Curricula" program grants titled "Under-graduate Research Using CD-ROM Technology." As Project Director of the Grant, Kathy recalls a small area of four dedicated workstations where students could receive instruction on how to use key databases such as ERIC and PsycInfo. Fast forward to 2013, the CD-ROMs are long gone and students can now access more than 100 databases and thousands of journals and a growing number of reference tools. The title of a 1999 PIP Grant says it all, "Library Anywhere/Anytime: Increasing Student Access to Library Research."
Kathy has worked consistently over the past two decades to enhance access to library resources from both a technical and an intellectual perspective through her promotion of Library User Education and outreach. Kathy is first to point out that many hands have contributed to this transition. She notes, "the Library is a great place to work, a family really, and the hard work and dedication of all staff are what makes it worth my long commute from Sussex County – more than one hour each way."
Since the Faculty Senate's initiative to revise the University's General Education Curriculum in 2008, Kathy has taken a leading role in this endeavor. She has been active on the Faculty Senate's University Core Curriculum Council since its inception, and has co-chaired the group since September, 2009.
Aside from her role in the implementation of the University Core Curriculum, one of Kathy's recent interests has been the transformation of the Library from a "warehouse" for books and journals to a vibrant space where students can collaborate and study in a variety of venues.
From the creation of the Friends Room in 2006 to the opening of new study areas on the first floor, Kathy has worked closely with Anne Ciliberti, Dean of the Library Services, to insure that the library is a welcoming place where students can find both the resources and support needed to make the most of the 21st century library.
Kathy has enjoyed many opportunities to make friends throughout the University - from her participation on the All-College Planning Council in the early 1990's to a consulting role on planting daffodils on campus. Among her pursuits and pastimes during retirement, Kathy commented, "Travel with my husband, Bob, and of course, gardening will be high priorities on my list for retirement . . . and maybe a little reading instead of sitting in traffic would be a wonderful thing."
October 14, 2013