University Theses and Dissertations Now Available Electronically From the Cheng Library
Theses and dissertations collection continues to grow at the Cheng Library.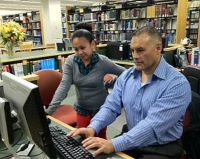 Leah Marie Zamora assisting Gustavo Gonzales as he completes the online submission for the first dissertation for the DNP program, November 22, 2013.
In the summer of 2004, the William Paterson University's Theses Committee was formed. Its mandate was to recommend how the Cheng Library could best digitize the University's masters' theses. After thoroughly reviewing the literature and surveying the policies of other libraries, the Theses Committee recommended that the Library partner with ProQuest to provide the widest possible dissemination of William Paterson University's students' theses.
ProQuest Dissertations & Theses is the database of record for graduate research. This resource is international in scope and contains over three million theses and dissertations.
In 2008, the Cheng Library submitted the first master's thesis to ProQuest Dissertations & Theses, and there are now a total of 147 theses from William Paterson University's graduate students in this database. Theses have been submitted by the departments of Music, Communication Disorders, Sociology, Kinesiology, and Political Science and the College of Education.
The first dissertation for the Doctorate of Nursing Practice was submitted in November 2013, and eleven more will be added by the end of this academic year. These twelve students will be the first students to receive doctoral degrees from the University.
ProQuest also provides a link to our local collection: Theses and Dissertations @ The William Paterson University of New Jersey. This database offers access to the full text of theses and dissertations to the William Paterson University community. Offsite scholars can request interlibrary loans from their academic institutions or purchase theses for a small fee.
Thus far, three international scholars have requested William Paterson University theses via interlibrary loan. The British and Irish requests were for theses from the Music Department and another inquiry from Singapore was for a title from the Department of Communication Disorders.
Our partnership with ProQuest acts as an incentive for students to produce the highest quality research. Their theses and dissertations can be shared internationally which is also advantageous for professional networking.
At the 2013 Annual Conference of the American Library Association, Jane Bambrick, Reference Librarian, presented a poster session titled Masters' Theses on the Increase: A New Look at Accessibility and Preservation. Sharing the Library's experience with other librarians is an important contribution to academia.
The submission of theses and dissertations to ProQuest begins a new chapter for the Cheng Library and the University. The global dissemination of information advances scholarship and research, and the University's graduate students are now part of this process.
Please visit the Library's web site or contact the Library for more information.
February 24, 2014