Credo Has All the Answers – Well, Most of Them
The Cheng Library announces acquisition of new subscription database: Credo Reference.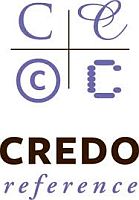 The Cheng Library is pleased to announce the acquisition of a new electronic subscription database: Credo Reference. Unlike our many e-book purchases and leases, the Credo Reference database provides a portal to more than 600 full-text reference titles from more than 80 major commercial and university publishers. Credo Reference includes many types of reference books: encyclopedias, dictionaries, biographies, handbooks, guides and atlases.
Credo is a useful starting point for reliable information on almost any topic. The database provides one interface for access to reference materials from many publishers. It could be compared to searching 600 different reference books at once – an impossible task if the books were in print. Easy to search and browse, the Credo platform provides access to not just text, but to images, maps, quotation, definitions, biographies and statistics.
Quoted during an interview in Information Today, Mike Sweet, CEO of Credo said of this compilation of reference works: "It's amazing because Credo actually has become a perfect name. Credo means 'I believe,' and one of the things that we're all about is the trustworthy nature of our content."
Credo also provides "Topic Pages" that define and describe concepts, people and places, and provide additional information from the Credo collection. Furthermore, the Topic Pages function as "discovery tools" for supplementary sources of information among the Cheng Library's electronic resources. These pages link to content in the Library's ebook collection and to articles available electronically in the Library's periodical databases. Topic Pages also link to videos, images, and sites on the Internet.
Richard Kearney, Electronic Resources Librarian, said of Credo, "This collection comprises an abundant variety of resources, and users have access to multiple sources of information for most topics. The accessibility of these resources electronically from any location is another enormous benefit."
To sample the Credo Reference database, begin at the Library "Articles & Databases" web page, and scroll down to "Credo Reference." A direct link is here: http://www.credoreference.com/home.do
For more information about this new resource, please contact the Reference Desk at 973-720-2116 or Richard Kearney, Electronic Resources Librarian, at 973-720-2165.
Selected titles include:
The Encyclopedia of American Folk Art
Historical Encyclopedia of American Labor
Cambridge World History of Food
The Columbia Encyclopedia
Respectfully Quoted
Atlas of the Universe
Biographical Dictionary of Modern Egypt
Encyclopedia of African History
Immigration and Asylum from 1900 to Present
The Environmental Debate: A Documentary History
The Homer Encyclopedia
A History of Feminist Literary Criticism
Encyclopedia of the Human Brain
The Essentials of Philosophy and Ethics
Cambridge Handbook of Consciousness
Encyclopedia of the Human Genome
Guide to the Oceans
and nearly 600 more titles!
March 04, 2013