Curriculum Materials Center Receives Grant from the Albert Payson Terhune Foundation
The Albert Payson Terhune Foundation awarded a grant to the Library's Curriculum Materials Center to purchase books about animals.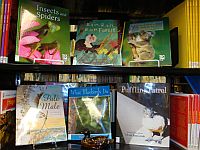 A selection of the books purchased with the grant from the Albert Payson Terhune Foundation on display in the Curriculum Materials Center.
Lions, crocodiles, giraffes, kangaroos, owls, beavers, turtles, peacocks, bears, kittens, pandas, horses, seals, and of course, dogs, many breeds of dogs -- these are just some of the animals represented in a new collection of books purchased with a $3,000 grant from the Albert Payson Terhune Foundation. These books were recently added to the Curriculum Materials Center (CMC) of the Cheng Library.
Albert Payson Terhune was born in Newark in 1872 and made his permanent home at Sunnybank in Wayne, New Jersey until his death in 1942. Part of the family's estate is now the Terhune Memorial Park overlooking Pompton Lake.
Mr. Terhune was an author, journalist and prominent dog breeder. His most famous book, Lad: A Dog, written about his favorite collie, was a best seller for both children and adults. During his lifetime, Mr. Terhune wrote more than 30 books about dogs. Several of his beloved collies are buried on the grounds of the Terhune Memorial Park.
Recognizing Mr. Terhune's love of animals, this grant focused on updating the CMC's collection of juvenile nonfiction about animals. The grant enabled the Library to purchase more than 100 books for students in Grades K to 8. The books include titles about a variety of animals, domestic and wild, extinct, endangered and common. Some titles explore various animal habitats, while others feature animal researchers such as Temple Grandin and Jane Goodall. Each new book has a bookplate that acknowledges the Terhune Foundation's gift.
This grant will supplement an effort of the Library to increase resources to assist pre-service teachers in learning to meet the Common Core Standards. A significant focus of the Common Core Standards is to instruct K-12 students in the skills needed to read, comprehend, analyze and evaluate "informational texts," such as nonfiction books. Pre-service teachers must be familiar with a variety of high-quality informational texts and understand how to educate their students to engage thoughtfully with these texts.
The Curriculum Materials Center supports undergraduate and graduate teacher education with a knowledgeable staff and a collection of specialized resources. The collection includes Big Books, curriculum guides, Holocaust Education resources, juvenile books, reference materials, teaching aids, and textbooks for students in Grades K to 12. The materials are available for use by William Paterson University students, staff and community users.
Yvonne Roux, Curriculum Materials Librarian, was awarded the grant and selected the books for the collection. The David and Lorraine Cheng Library wishes to extend an enthusiastic "Thank you" to the Albert Payson Terhune Foundation for its support of the Curriculum Materials Center.
May 22, 2013