Creativity of University Authors Honored at Annual Reception
The published writings and creative works of William Paterson University authors were displayed at a reception on April 4, 2013.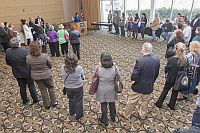 President Waldron addressing the group assembled at the reception for University authors.
President Waldron, Provost Weil, and many faculty and staff attended a reception to recognize their colleagues' publications and creative works. The reception was held on April 4, 2013 in the University Commons.
This annual event, coordinated and sponsored by the Cheng Library, serves to recognize and honor those University staff whose scholarship has resulted in books, journal articles and other substantial works during the past academic year.
This event is held in conjunction with University Research and Scholarship Day and showcases the writing achievements of William Paterson University's faculty and staff. Prior to the event, authors submitted works in a myriad of topics, representing their wide range of professional and personal interests and achievements.
These works took the form of scholarly journal articles, books, magazine articles, television episodes, films and other media. Library staff compiled the citations for these publications into a bibliography that was printed and distributed at the event. This year 179 works were listed in the bibliography and displayed at the reception.
The variety of topics covered by the University authors' publications was outstanding. Examples of the items displayed included the books, Seeing the Invisible: Reading Literature through Critical Lenses, by Darlene Russell, Dept. of Secondary and Middle School Education, and Aspects of Colonial Tanzania History by Lawrence E. Y. Mbogoni, Dept. of Africana World Studies. Marie-Louise Friquegnon, Philosophy, submitted two works on Santaraksita, and Vincent Parrillo, Sociology, submitted updated editions of two of his books, Cities and Urban Life and Diversity in America. Robb Rehberg, Kinesiology, wrote Sports Emergency Care: A Team Approach and Neil Kressel, Psychology, wrote The Sons of Pigs and Apes: Muslim Anti-Semitism and the Conspiracy of Silence.
Two professors from the Art Dept. also submitted new books: Mexican Muralism: A Critical History by Alejandro Anreus and Icons of Irishness from the Middle Ages to the Modern World by Maggie Williams. These titles are just a few of the numerous books displayed.
Journal articles also covered a remarkable range of topics. Jorge Arevalo of the Marketing and Management Department submitted four articles on various global business issues. Kathy Malu, Secondary and Middle School Education, submitted a journal article on tapestries from Rwanda, for which she was both the author and photographer. A sampling of the beautiful tapestries was on display with the article. Pamela Theus, Assistant Director of Resource Management in the Library, co-wrote a journal article with a colleague from Montclair State University's library.
Creative works were also represented: Jamsheed Akrami, Communication Department, submitted his new film, A Cinema of Discontent: Film Censorship in Iran and John Parras, English Department, contributed a book of poetry and prose, Dangerous Limbs.
During the event, Martin Williams, Director of the Office of Sponsored Programs, presented certificates to faculty and staff who wrote successful grant proposals this year. Faculty and staff awardees were recognized for an extensive variety of grant-funded projects. President Waldron and Provost Weil congratulated the authors and grantees.
The event was open to the entire University community. Attendees enjoyed reading their colleagues' work while they mingled and indulged in an appealing selection of refreshments and treats. A photographer from the University's Marketing and Public Relations Department took photographs of the authors with their works. The photos are posted on the University's Facebook page.
Preparation is already underway for next year's Author's Reception which will take place on Thursday, April 3, 2014. Please mark your calendars and save the date!
A link to the booklet created for the event which includes a bibliography of the University Authors is available at http://www.wpunj.edu/library/authorreception/2013-author-reception.dot
May 15, 2013