Summertime and the Reading Is Easy
Many new titles were recently added to the Cheng Library's Leisure Lounge Collection.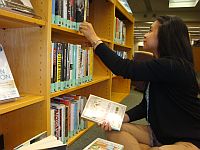 Leah Marie Zamora selects a few books from the Leisure Lounge Collection.
Looking for some great summer reading? Well, the Cheng Library may have just what you are looking for in its Leisure Lounge Collection which now features many new titles.
The Cheng Library maintains a collection of popular, recently published books of fiction and non-fiction. The titles are updated approximately four times a year on an annual basis. A group of Library staff reviews a list of titles from many publishers and selects books for the Library's collection. Known as the Leisure Lounge Collection, these books can be found on the first floor of the Library. All of the titles are catalogued and appear in the online catalog.
The collection was started in 2006 in response to requests from Library users for access to recreational reading material. The rotating collection of approximately 200 books are shelved in a designated area on the first floor. Books circulate for two weeks and may be renewed once. To locate titles of interest, please connect to the web site: https://liberty.wpunj.edu/library/leisurelounge/
A few selected Leisure Lounge books include these 2013 publications:
Deeply Odd: A Novel by Dean R. Koontz
Alex Cross, Run by James Patterson
Daddy Love the latest thriller by well-known New Jersey author, Joyce Carol Oates.
For animal lovers, recent titles include:
Animal Wise: The Thoughts and Emotions of Our Fellow Creaturesby Virginia Morell, and

The Cat Whisperer: Why Cats Do What They Do – and How to Get Them to Do What You Want by Mieshelle Nagelschneider.
Among the new non-fiction titles are
Friendfluence: The Surprising Ways Friends Make Us Who We Are by Carlin Flora,
Sticks and Stones: Defeating the Culture of Bullying and Rediscovering the Power of Character and Empathy by Emily Bazelon,
Power Foods for the Brain: An Effective 3-step Plan to Protect Your Mind and Strengthen Your Memory by Neal D. Barnard.
If you like biographies or popular music, consider Remembering Whitney: My Story of Love, Loss, and the Night the Music Stopped by Cissy Houston, Whitney's mother, who shares details of the story of her daughter's life.
Below is a small selection from many of the new titles on order.
12th of Never by James Patterson – part of the Women's Murder Club series featuring Det. Lindsay Boxer who returns to work immediately after having a baby,
Ask Wendy: Straight-Up Advice for All the Drama in Your Life – the book by television host and New Jersey resident Wendy Williams who dispenses advice for women and offers insight for present-day problems and concerns,
Cooked: A Natural History of Transformation – the new book about the history of food-preparation by best-selling author Michael Pollan,
Hit by David Baldacci – the second novel featuring Will Robie, the highly skilled assassin who debuted in the author's recent book, The Innocent,
Iceman: The True Story of a Cold Blooded Killer by Anthony Bruno – if you liked the movie, you might want to read this thriller based on the life of notorious hitman Richard Kuklinski.
We invite you to check out these books and others in the Cheng Library's Leisure Lounge Collection.
May 23, 2013