"Fetch It" - New Book Retrieval Service Introduced
The Lending Services Department launches new book retrieval service.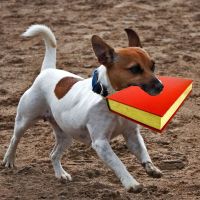 The Lending Services Department has launched a new service called "Fetch It!" Members of the William Paterson University community may request books available in the Cheng Library's circulating collections, and the books will be held for them at the Lending Services Desk.
Users may search for a title in the Library's online catalog and click on the "Fetch It!" option in the item record. After logging in to "My Account" users simply click on the "Fetch this for me!" link to place a hold on the book.
Staff members in the Lending Services Department will page the materials and hold them at the front desk for three days. Staff will retrieve requested items several times each day the Library is open.
Most of the materials located on the second floor may be requested using Fetch It. These books are in the Circulating, Oversize, Chinese, Curriculum Materials Center, or Leisure Lounge collections. After using the service, users will receive an email confirmation notice that their request was submitted. Users will also receive a second email notice once the book is ready for pick-up at the Lending Services front desk.
Requested items will be held for three days before returning them to the stacks or to the next person on the waiting list. The Fetch It service is presently offered to current members of the University community, and a Banner ID is required to login to the My Account feature of the online catalog.
University borrowers are pleased with this new service and enjoy the convenience it affords. Many students have expressed their appreciation to the staff at the Lending Services Desk for the Fetch It service and the time it saves in their busy schedules.
October 14, 2013