Beth Ann Bates Joins Library Acquisitions
Beth Ann Bates joins Library Acquisitions as Professional Services Specialist.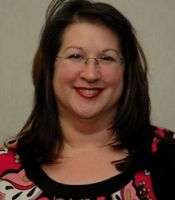 Beth Ann Bates joined the library staff as a Professional Services Specialist 4 in the Acquisitions Department in September, 2012. In this position, Beth Ann is responsible for ordering media materials for the Cheng Library and for organizing purchasing documentation. Although she is a new employee of the Cheng Library, Beth Ann is well known at the University. She began her career at William Paterson in 1996 in the Registrar's Office. After five years, she accepted a position in the Office of Sponsored Programs. She spent eleven years in this office assisting in the writing and submitting of grant proposals and learning about faculty research and University policies.
Beth Ann holds a B.A. in English from Seton Hall University. In 2002, she earned an M.A. in English, with a writing concentration, at William Paterson University. She is an adjunct instructor in the WPUNJ English department where she teaches College Writing. During the fall semester, she also teaches First Year Seminar, putting her knowledge of the University to use to help new students become part of our campus community.
Beth Ann continues to channel her love of literature by writing poetry, non-fiction and fiction. Her articles on tropical fish appear frequently in Animal Companion Magazine. A life-long resident of New Jersey, Beth Ann lives in Sussex County with a shelter cat and numerous freshwater fish. She loves jazz, cats, poetry and coffee, not necessarily in that order.
November 29, 2012