Library Holds Recognition Reception for Student Assistants
On April 11, 2013, the Library recognized the student assistants for all of the valuable services they provide.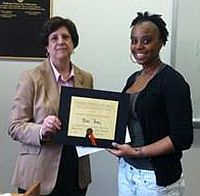 Anne Ciliberti, Dean of Library Services, poses with Tana Jones, a student assistant in the Dean's Office.
Every year the Library holds a recognition reception in appreciation of the outstanding assistance our students provide. With over 20 students working in the various Library departments, these assistants represent a significant portion of the Library workforce.
Students provide a vast array of services ranging from coverage at service desks, answering phones, filing, assisting with book searches, copier issues, inter-library loan processing, shelving, shelf-reading, furniture moving, and noise/food patrols. This event is just a small token of the Library's gratitude for all they do.
At the event the Library recognized four outstanding students: Julissa Arias and Jennifer Angeles (Periodicals), Tana Jones (Dean's Office), and Alexandria Alston (Lending Services). These students have worked in their respective departments for at least three full semesters and have been recognized by their supervisors for providing outstanding service.
The Library also congratulated four students on completing their University degree requirements: Miki Chantova (Lending Services - Chemistry), Everald Alexander (Lending Services - Sociology/Criminal Justice), Tana Jones (Dean's Office -Marketing & Management), and Jesly Noboa (Periodicals - Economics, Finance & Global Business). These students all graduated in May and have provided valuable service to the Library during their time as student assistants.
We wish all of these students well and we thank all of our student assistants for their continued service.
May 15, 2013