Event Celebrates the Legacy of Photographer George Tice
The Friends of the Cheng Library host an event in honor of George Tice's 75th birthday and his achievement in photography.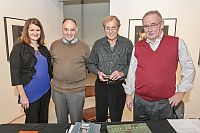 The three panelists were photographed with George Tice at the event. Pictured from left to right are Mary Kate O'Hare, David Godine, George Tice and Stephen Hahn.
What can one say regarding a monumental, life-long achievement in photography? Last year, George Tice celebrated his 75th birthday as well as 60 very active years as a photographer. In commemoration of Tice's creative achievement, and in conjunction with an exhibit at the University Galleries, the Friends of the Cheng Library along, with the Galleries, sponsored a panel discussion on the photography of George Tice. The event, "Without Adornment: Perspectives on the Photography of George Tice," was held in the South Gallery at the Ben Shahn Center for the Visual Arts on Nov. 10, 2013.
The panelists represented three acquaintances and admirers of Tice's work: a book publisher, a writer, and an art curator. The panelists were David Godine of Godine Publishing, one of Tice's publishers, Stephen Hahn, Associate Provost and Professor of English, and Mary Kate O'Hare, former Associate Curator at the Newark Museum. All three panelists offered insights and observations on the work of George Tice and commented on his achievement and legacy in photography.
Tice started taking photographs at the age of 14 with an inexpensive "Baby Brownie" camera. He joined the Carteret Camera Club that same year and has been devotedly pursuing his passion ever since. George Tice is esteemed as one of the finest American photographers of the late 20th and early 21st centuries. His selection of the urban environment as subject was chronicled in his first book, Paterson, published in 1972 by Rutgers University Press. This recurring theme of urban landscapes has been joined by many other photographic studies over the years.

David Godine commented on the achievement of Mr. Tice in publishing – 18 books in all – which is exceptional for a photographer. Several of these books were published by Godine. Mr. Godine noted in particular the extraordinary skill of Tice as a photographer: "He is a fantastic technician. As a publisher, you can't improve on the original, and George gave you the best material."

Stephen Hahn, Associate Provost, William Paterson University, commented on the work of Tice as it developed from his first book of photographs, Paterson. Tice published a second book of photographs of Paterson in 2006, Paterson II.

Associate Provost Hahn also has an interest in William Carlos Williams, especially his five-volume poem, Paterson. Hahn published an essay about both men and their creative works of Paterson. The essay appeared in the summer 2007 issue of The Literary Review and illustrates the "notable affinities amid differences" in the Paterson works of both Tice and Williams. He commented that in choosing Paterson as an enduring object of their attention and creativity, both were "inspired by quests - going back to sacred places and sacred objects but learning to accommodate the visionary to the actual." Hahn elaborated, "So, for me, a lot of George Tice's photographs are learning about what is."
Mary Kate O'Hare, former Associate Curator of American Art at the Newark Museum, spoke about the legacy of George Tice – his work and his gifts to the Museum. Tice is the most important donor of photographs to the Newark Museum, and only one of the donated photographs (the first) was his. Tice has given to the Museum photographs taken by others, such as Edward Steichen, that he has printed as well as those of other photographers who were influenced by him including Sally Mann and Tim Barnwell.
Following the panel presentation, George Tice conversed with the presenters and answered questions from the audience. Asked if he had yet ventured into the realm of digital photography, Mr. Tice replied, "I don't own a digital camera, and I have no intention of taking digital photos as long as they still make film and paper. The eight-by-ten view camera I bought in 1969 is still my favorite camera."
Clearly, Mr. Tice knows his métier well, and his admirers have much to contemplate and appreciate in his rich and abundant achievement in photography. As Tice wrote in Urban Landscapes, "Taking a picture is, indeed, stopping the world."
February 24, 2014