David and Lorraine Cheng Library
Ask a Question
Other Options:
Search our Library FAQ for answers to commonly asked questions.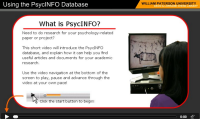 Library Tutorials are available for answers to common questions.
Workshops are offered throughout the semester to assist with various research needs. See our schedule for dates and times.
Resource Guides are available for all academic subject areas (and more), and include print and online resources to assist you with your research.
By phone
Call 973-720-2116. The Reference Desk is staffed until 10PM most weeknights during the semester (hours vary during the summer and holidays).
If you need to contact a specific librarian or library department, their phone numbers are here.
By e-mail
Send your question to the Reference Desk via email - refdesk@wpunj.edu
By Chat
Have a reference or research question? Why not ask Cheng Library via Instant Messaging (IM)?
Chat loading...
Ask your question via a live chat session whenever you see the blue "Chat With A Librarian" icon on the main Library page. We will answer all questions in the order that they are received, and thank you for your patience if there is a delay.
Schedule Individual Research Assistance
For more in depth research questions, you can schedule an appointment with a Cheng Library librarian. Complete the Individual Research Assistance Request form to set up an appointment.