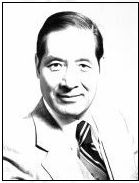 Initially appointed to the William Paterson College Board of Trustees in 1990, David H.Cheng served with distinction as a member of the institution's governing body for seven years.
An engineer, scientist, businessman, author and educator, Dr. Cheng employed his knowledge and experience to guide and foster intense institutional progress in the application of technology to the College's academic and administrative functions.
His broadly encompassing perspective facilitated the College's ability to embrace seemingly disparate points of view, providing stability and synergy. Always gracious and accessible, he generously gave of his time and employed his wisdom and understanding to promote communication and a humanitarian spirit.
For his abundant service and guidance, born of a rare combination of scholarly and worldly pursuits, the Board of Trustees of the William Paterson College of New Jersey confers upon David H. Cheng the honorary Doctor of Humane Letters Degree on this Twelfth day of May, nineteen hundred and ninety-seven.
David Cheng served on the William Paterson University Board of Trustees from 1990 to 1999. He earned a Ph.D. in structural mechanics, owned his own engineering consulting company, and was dean emeritus of engineering at the City University of New York (CUNY).
Lorraine Cheng retired from Hoffmann-LaRoche in 1994. During her 31 years with the company, she held a number of positions, most recently director of scientific information. She earned a master of science degree in biochemistry from Cornell University.