---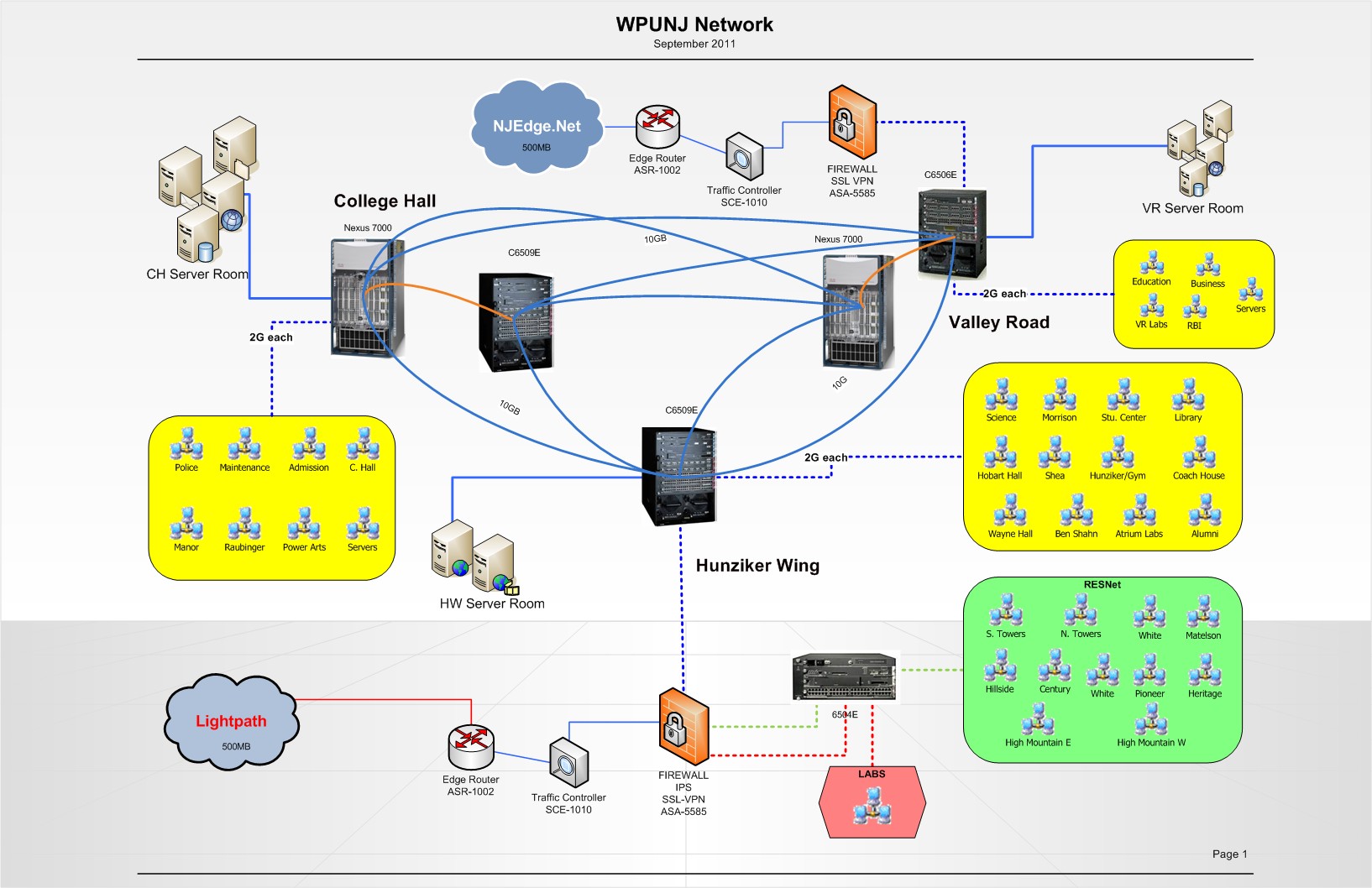 (click on the picture)
Today, the WPUnjNet backbone consists of four Cisco 6500 10 Gigabit core switches and two Cisco Nexus 7000 10 Gigabit core switch strategically located across the campus optimized for performance and bandwidth. Fault-tolerance between the Gigabit switches is accomplished by using a redundant path from and to each Gigabit switch. Routing is accomplished by utilizing the same Gigabit technology capable of wire-speed routing. A total of 220 Virtual LANs (VLANs) are connected to this 10 gigabit core fabric.
Our WPUNJ wireless network consists of 652 Cisco Aironet 3500 access points strategically located across the campus controlled by a redundant Cisco Wireless Control System and Wireless Line Controller backend. Because of the robust wireless architecture, all residence halls have complete wireless coverage down to each individual room. In addition, all classrooms and faculty/staff offices have full wireless coverage.
The WPUnjNet is connected to the Internet via a dual-homed connection for redundancy. A 500Mbps Ethernet circuit provided by NJEDge.Net and a 500Mbps circuit provided by Lightpath constitute our total internet access. The total number of networked PCs, hosts and servers at the University is currently 5000 and rapidly growing. General remote access is provided via Cisco VPN AnyConnect secure access.
All nine campus dormitories (Century, Hillside , Towers, Heritage, Pioneer, White, Matelson Hall, High Mountain East and West) are joined to the University network backbone bringing the potential number of resident student nodes at the University to over 2000.