Mac VPN Instructions
Remote Access Services
Faculty/Staff Instructions on VPN connectivity
VPN General Information:
NEW: The Macintosh VPN client is available for faculty/staff only !! Download it from the WPCONNECT portal under quick links or miscellaneous services.
VPN Client
Download the Macintosh VPN client from the WPCONNECT portal
VPN does not replace your ISP connectivity, it is intended only so your can access secure resources.
While VPN is active your are still connected using your ISP profile. This means you MUST fully qualify your WPUNJ system names, including the wpunj.edu domain name. You must use SYSTEM-NAME.wpunj.edu to contact systems at WPU. For example, use www.wpunj.edu, when contacting www.
The VPN server authenticates using Mac OS X/Email usernames and passwords ONLY. Faculty, staff and students users must have a valid WPUNJ Mac OS X/Email account to use the VPN services.
Step 1:
1) Locate the downloaded vpnclient-darwin-4.7.0#A73B.dmg. file. It is probably on your desktop.
2) Double click on this file. It will mount a disk image.
3) In that disk image double click on the Cisco VPN Client.mpkg file.
4)Do a default installation. This means clicking 'continue" ,"next" or "Accept" wherever it appears. Make sure you install the program on your boot drive (usually the first drive listed in the drive list if you have more than one drive).
5)When the program is finished installing click the "close" button. There is no need to restart.
Step 2. Configure the client
1) locate the VPN program now located in your "Applications" folder.
2)Click on the "new" button.
3)Enter: WPUNJ VPN under Enter the name for this connection entry:
Enter: WPUNJ VPN Server under Enter a description (optional):
Enter: 149.151.199.16 under Host:
Under the Authentication tab
Enter facultystaff under Name:
Enter fs@wpu under Password and again under Confirm Password
Click Save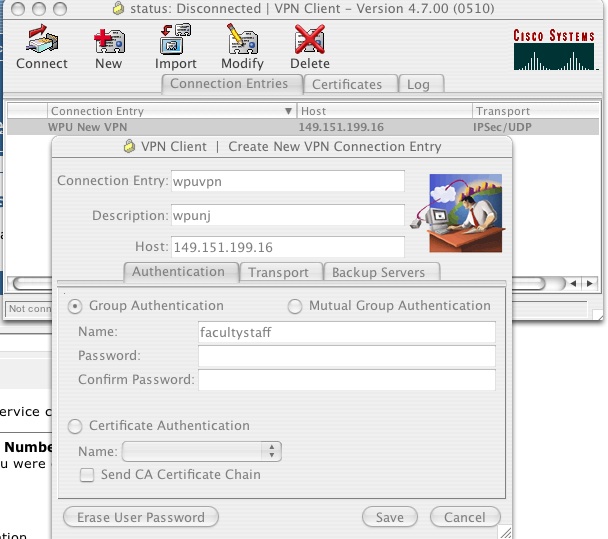 4) Now select the WPUNJ connection entry you just created and click on the "connect" button.
If you are connected sucessfully the system will ask you for your login infomation.
Under Username enter your WPUNJ username
Under password enter your WPUNJ password
Click OK
Click continue when the Welcome popup window appears
You are now connected to the WPUNJ VPN.
For technical support send email to vpnhelp@wpunj.edu
Disclaimer:
William Paterson University is not responsible for any software/hardware failures due to the installation of the VPN software provided by Nortel Networks.
William Paterson University
300 Pompton Road
Wayne, New Jersey 07470
973-720-2000