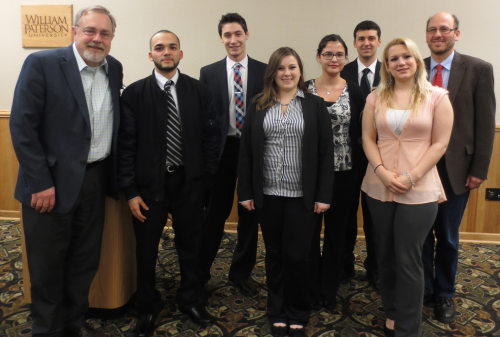 Through a series of seminars and a carefully-supervised research projects in an area of personal interest, students explore how the social sciences share some intellectual heritage and how they can come together to address problems confronting the contemporary world. Track participants will come. Track participants will examine the perspectives of psychology, sociology, political science, and anthropology on matters including the family, work life, the legal system, religion, hatred, aggression, poverty, international conflict, and other topics.
Students in the Social Science Honors Track can expect a unique learning opportunity led by interdisciplinary teams of accomplished social scientists who are committed to their role as teachers. Students will read and discuss some of the finest thinkers in history and learn how to conduct meaningful social science research. We hope that many students in this track will be able to present their findings at scholarly conferences, and even to publish their work.
The Track is Ideal For:
Students of all majors with a minimum 3.0 GPA

Students interested in the fields of sociology, psychology, political science, and anthropology

Students who wish to strengthen their applications to law school or graduate school in psychology, sociology, political science, anthropology, and associated fields
Curriculum:
*Track courses may be taken in any order with the permission of the track director.
Honors Seminar in Social Sciences I-Theory (SSH 2010)
As social scientists attempt to decipher human social behavior, they make various moral, theoretical, political, and methodological choices. The first two seminars in the program examine the intellectual origins of such choices. A special effort is made to identify where the various social science disciplines differ and where possibilities exist for interdisciplinary cooperation. Students in the first seminar explore these issues while reading and discussing classic works in psychology, sociology, political science, and anthropology.
Prerequisite: Admission to the Social Sciences Honors Track
Honors Seminar in Social Sciences II-Methodology (SSH 2020)
This seminar focuses on the various methodologies of social sciences. As in SSH 2010, students read important social scientific studies in the original. An effort is made to use such works, often drawn from scientific journals, as the basis for discussion of the methodological questions. The seminar covers qualitative as well as quantitative approaches.
Prerequisite: Admission to the Social Science Honors Track
Honors Seminar in Social Sciences III-Application (SSH 3010)
Each semester, this seminar examines a different social dilemma from a variety of social science perspectives. Seminars may address: (1) Law and Justice, (2) International Conflict, (3) Family Matters, (4) Religion, or other topics.
Prerequisites: Admission to the Social Sciences Honors Track or Permission from the Program Director
*Students may repeat this course for credit, though subsequent enrollment would count as electives
Honors Thesis I (SSH 4010)
Students design and carry out research in preparation for writing an Honors Thesis. We will embrace methodological diversity, requiring primarily that a project be feasible and fall within the domain of the social science broadly conceived. Faculty members are committed to helping students conduct successful research.
Prerequisites: SSH 2010, SSH 2020, and SSH 3010, or permission from the Program Director
Honors Thesis II (SSH 4020)
Students write and present an Honors Thesis.
Prerequisites: SSH 4010, or permission from the Program Director
What projects have students completed in the past?
Students in the Social Sciences Track have produced theses with the following titles:
Alexander Alvarez, Class Integration of Public Schools, 2015
Jake Drappi, Descriptive Menu Labels in Upscale Restaurants, 2015
Ashley Lemoncelli, Perspective Gender Stereotypes for Attractiveness: High Standards Keep Women Down, 2015
Samantha Mercado, Second and Third Wave Feminist Theory on Sexualization and Empowerment, 2015
Lachelle Rouse, Juror Bias and the Insanity Defense, 2015
Diane Segreto, How Well Are Children's Rights Protected in the U.S. and Abroad?, 2015
Veronica Giandomenico, Educational Achievement and Second Generation Hispanic Americans, 2014
Caitlin Hoolihan, Reel Psychologists: Hollywood Portrayals of psychologists, 2000-2013, 2014
Shannon Itjen, Proposal for Foster Youth Transitional Program at William Paterson, 2014
Gordon Kessler, Trends of National Party Mobilization and State Party Demobilization of Youth: A New Jersey Case Study, 2014
Matthew Leitner, Lawyers on Television: A Content Analysis Study of TV Lawyers, 2014
Cristen Lim, Media, Peer, and Parental Influences on Dieting Behaviors of Young Adults, 2014
Katherine Pirera, Self-harm among Adolescents, 2014
Cynthia Antunes, Perception of Accents in an Employability Setting, 2013
Shannon Pagan, Portrayal of Speech Impediments in Classic Cartoons, 2013
Joseph Toth, Presidential Nomination Acceptance Speeches: A Content Analysis, 2013
Miranda Van Dunk, Psychological Theories and Ethnosemantic Application to Vodka Advertisements, 2013
Joseph Whitaker, Are Relationships Using New Modes of Technology as Satisfying as Face-to-Face Interactions?, 2012
Holley Cornetto, Religion in the Early Republic, 2011
Christina Freer, An Investigation of the Effects of Diet and Gastrointestional Issues on the Symptoms of Autism, 2011
Emily Fritzky, Gender and the Perception of Emotion, 2011
Rachael Mierzwa, Facebook Behavior and the Consideration of Future Consequences, 2011
Michelle Palmieri, An Argument for a revised Scale to Test Teachers' Attitudes towards Children with Autism Spectrum Disorder, 2011
Tyler Peckio, Restructuring American Democracy, 2011
Madeline Zayac, Humorous Advertising: A Content Analysis of Anheuser-Busch Budweiser and Bud Light Brand Super Bowl Commericials, 2011
Jennifer Bauer, General Education: Core Curricula, Democracy, and Higher Education, 2010
Nicholas Mattera, Marijuana Policy at State and Federal Levels of Government, 2010
Jesenia Ponce, Bullying and the Law: Legal Deterrents to Peer Harassment in School Districts, 2010
Leah Viray, Male and Female Infidelity in Movies: A Content Analytic Study, 2010
Kelly Patterson, Souls Sought Through the Mind's Eye: The Presence of the Anthropological Other as Expressed through the works of Charles Bird King and George Catlin, 2009
Erin Burger, Understanding Psychological Resilience: Coping Styles, Stress, and Levels of Resilience, 2008
Mayra Gastell, Training Parents of Autistic Children: A Proposal for refining ABA-based Programs, 2008
Samantha Branin, Moral Education in American Public High School, 2007
Carol Chu, The Effect of Ethnicity, Acculturation, and Support Systems on a Graduate Student's Perception of Stress, 2007
Christopher Larres, Acculturation, Ethnic Identity, and Qulaity of Life of Greek-Americans in Northern and Central New Jersey, 2007
Jennifer Sudol, Popularity, Assertiveness, and Aggression among boys and girls in Middle-School, 2007
Tiffany Clarke, Black Racial Identity in the United States and Political Group Cohesiveness, 2006
Alyson Heller, Interracial Adoption and its Effects on Ethnic View of Self, 2006
Diana Hilbig, A content Analysis of Representations of American Indians in Movies from 1933 to 2005, 2006
Kerri Lindenthaler, Childhood Origins of Dependent Personality Disorder; Parental Authority and its Effects on Adult Attachment Style, 2006
Madalina Radu, The effects of the scheduled news announcements about the United States Gross Domestic Product value on the United States Dollar versus the Euro Dollar Exchange Rate, 2006
Maite Rago, The Psychology of Abusive Dating Relationships in College-Age Women, 2006
Renato Antunese, Profiling As a Tool in Airport Security Operations, 2005
Mirta Alsina, How Society Thinks About Left-Handers and How Left-Handers Think, 2005
How do I enroll?
To enroll in the Social Science Honors Track, contact the Director, Dr. Neil Kressel, at (973) 720-3389 or at kresseln@wpunj.edu. You could also contact Jan Pinkston at (973) 720-3776 or at pinkstonj@wpunj.edu. A completed track application must also be submitted to the Honors College.
About the Track Director:
Professor Neil Kressel holds a Ph.D. in social psychology from Harvard University and a M.A. in comparative history from Brandeis University. A recipient of William Paterson's award for excellence in research and scholarship and – recently – a Visiting Fellow at Yale University, his books include: Bad Faith: The Danger of Religious Extremism (Prometheus, 2007), Mass Hate: The Global Rise of Genocide and Terror (Plenum, 1996; rev. ed., Perseus/ Westview Press/Basic Books, 2002); Stack and Sway: The New Science of Jury Consulting (Perseus/ Westview Press/Basic Books, 2002; paperback, 2004), and Political Psychology (Paragon House, 1993). He very much enjoys supervising undergraduate student theses.