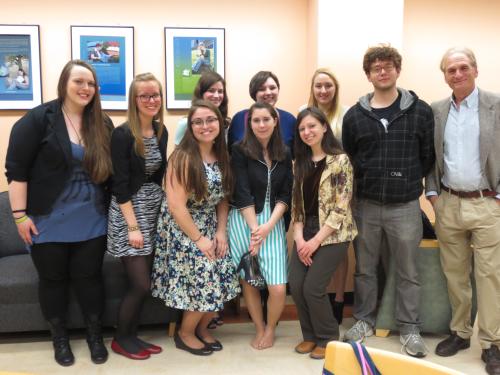 The performing and Literary Arts Track is a cross-disciplinary program for students interested in one or more aspects of creative accomplishment.
About the Track
Students may focus on any of the creative arts, such as creative writing (fiction, poetry, playwriting), film-making, music composition/performance, visual art, photography, acting - or any combination thereof such as visual art and writing, musical composition and writing, photography and poetry, etc. The outcome will be a completed artifact and a public performance, held on campus and open to the college community and the community-at-large.
As is true for the other tracks in the University Honors College, Performing and Literary Arts is not a major, but a distinctive set of courses that adds breadth to, and reinforces, a student's chosen major. With the approval of the Track Director, each student selects five courses to assist him/her in both the preparation of the creative project and the formal presentation thereof. One of the five courses will be the PLA Thesis course in the student's final year. During this course, the student will develop and complete his/her project.
What projects have students completed in the past?
Students in the Performing and Literary Arts Track have produced theses with the following titles:
Bria Barnes, An Original Anthology: Part One, 2015
Sarah Dinetz, Strung Along (novel excerpt), 2015
Eric Dolan The Art of the Interview, 2015
Greg Farkas, Adding Perspective, 2015
Joshua Forrest, One Song, Three Stories, 2015
Kelly Ginart, Coincidencias Excepcionales, 2015
Phillip Gorokhovsky, Life After William Paterson, 2015
Jennifer Hastings, Travel Log, 2015
Jason Krobatsch, Short Plays, 2015
Samuel Lowry, Welcome to Another World, 2015
Christine Marshall, Reap, 2015
Harry Metzler, Parkway Divides, 2015
Miguel Rodriguez, Life of Pi Suite- Music & Storytelling, 2015
Megan Stefanski, Witched, 2015
Meghan Triolo, A Collection of Thoughts Before Daybreak, 2015
Ryan Walsh, Eleven, 2015
Nicole Bernstein, Graceless, 2014
Christina Dellosso, Take Out the Trash, 2014
Ruti Frankel, The Unveiling, 2014
Catherine Matteucci, Charlie's Nightmare, 2014
Kara Peterson, A Different Kind A Novel, 2014
Brianna Rittinger, A Collection of Poems, 2014
J. M. Safranski, Blue Fear, 2014
Carrie Tolve, Caroline: The Story of a Crush, 2014
Stephan Bisaha, Tide A Radio Drama, 2013
Emilija Bitinaityte, The Sum of all Things, 2013
Brian Cornish, The Future of Jazz, 2013
Sarah Culp, The Six Wives A Libretto, 2013
John Demeski, Life and Character: A Collection of Short Stories, 2013
Michael Dorcelly, Our Neighbor's World, 2013
Peter Kennedy, Sketches, 2013
Elizabeth Masci, My Not-So-Euro-Chic European Holiday, 2013
Amanda McDonald, Stories of Mine, 2013
Bethany McMinn, Koti Parker, 2013
Philip Rasmussen, Adventures in Flight-Reflections on the Birth of an Album, 2013
Sandy Sainvil, I am Haitian, 2013
Caroline Sanchez, Some Kind of Fiction-A Collection of Short Stories, 2013
Erin Sterbinsky, Broadcasting Fables-A Poetry Collection, 2013
Pardis Shohrati, Lull Me Away, 2013
Cortney Wisbauer, The Purpose of Darkness, 2013
Alaina Blekicki, Take Me Away, 2012
Lauren Cucci, Group, 2012
Anthony Gabrielle, SNOAH, 2012
Nathan Giroux, A Study in the Composition of Literature and Music, 2012
Morgan Lawson, Hellbent, 2012
Melissa Mayer, Pieces of Me, 2012
Julie Minicozzi, The Benefit for Closure, 2012
Kristen Pettet, The Missing Piece, 2012
Jacqueline Segal, Annie and Cara Take on the Camp, 2012
Jenna Semeraro, Kiera's Big Move, 2012
Jessica Semeraro, Hopeless, 2012
Natalie DaSilva, Struggles of a Woman: A Collection of Short Stories and Screenplays, 2011
Kaci Higgins, Unexpected-A Novella, 2011
Travis McGrath, Awake and Dreaming: A Collection of Creative Non-Fiction, 2011
Dania Moheisen, It's This Thing…Called Life: The Story of a Palestinian American Muslim Girl Coming of Age, 2011
Holly Phillips, Touching Lives: A Collection of Short Stories, 2011
John Strevens, The Modern Man's Hustle, 2011
Pam Imhof, The Mysteries of Human Behavior -Paintings that Represent Literature, 2010
Patrick Hanan, Arachnid, 2009
Jessica Mongiello, Artful Expectations, 2009
Lindsay Tierstein, Seven Cycles, 2009
Phebe Varghese, Nothing Special-A Collection of Short Stories, 2009
David Molczyk, Fiction and the Super Natural, 2008
Lisa Paitchell, Judith-A Novella, 2007
Latoya Pinckney,, The Color of Dignity, 2005
Laura Sassano, Avenging the Hat, 2005
Dan Faraguna, Loss of the Moment, 2004
Chantel Phipany, Random Days, 2004
Kevin Thomas, Gypsy & The Lost Treasure: A Play for Children, 2003
Lisbeth Cobas, To Hell with Dante and Forward, 1992
Kyle Allen, In God's Country
Erica Caine, Sepia's Song-A Musical
Rumki Chowdhury, Her Perfect Chime
Philip Donchevich, Our Father-A Collection of Essays
Remi Groner, I, Candidate
Lori Haddix, Ilsilab
Peter Helff, About Time: A Short Collection of Writings
Frank Herbert, Dune-A Novel
Lori Michael, Vagabond Visions
Rachel Kaplan, Rain
Paloma Kelly, The Cosplay Curse
Terry McGahan, Merry Street
Jillian Mulderig, The Fine Mingling
Phoebe North, Nostalgia: A Mixed-Tape in Memories
Jessica Pepe, With Heartfelt Serenity
Jennifer Smith, Her Love: Women in Myth, Legend and Fairy Tale-A Fiction Collection
Amy Van Druten, The Redemption of a Teenage Nobody
James Van Wyck, Chains: Fit for Mercy
Karin Diann Williams, Justine-A Comedy

How do I enroll?
To enroll in the Performing and Literary Arts Track, contact the Director, Dr. Philip Cioffari, at (973) 720-3053 or at cioffarip@wpunj.edu. You could also contact Jan Pinkston at (973) 720-3776 or at pinkstonj@wpunj.edu. A completed track application must also be submitted to the Honors College.
About the Track Director:
Philip Cioffari is the author of three books of fictions: the mystery/thriller, Catholic Boys; the short story collection, A HISTORY OF THINGS LOST OR BROKEN, which won the Tartt Fiction Prize and the D.H. Lawrence Awards for fiction; and, most recently, JESUSVILLE. His short stories have been published widely in commercial and literary magazines and anthologies, including North American Review, Playboy, Michigan Quarterly Review, Northwest Review, Florida Fiction, and Southern Humanities Review. He has written and directed for Off and Off-Off Broadway. His Indie feature film, which he wrote and directed, LOVE IN THE AGE OF DION, had won numerous awards, including Best Feature Film at the Long Island Int'l Film Expo, and Best Director at the NY Independent Film &Video Festival. He is a Professor of English, and director of the Performing and Literary Arts Honors Track, at William Paterson University. www.philipcioffari.com