Nursing Track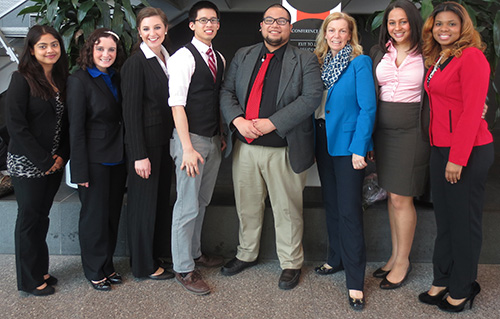 The Nursing Honors Track provides an in-depth experience in nursing research and evidence- based practice for students who are pursuing a Baccalaureate in Nursing. Included with the standard nursing courses, there is the opportunity to develop a unique relationship with a nursing professor who will support and encourage a more comprehensive and extensive experience. Nursing Honors Students are prepared for challenges of the healthcare arena and gain more advanced knowledge in evidence-based practice and research and the framework necessary to support an evidence-based practice.
Nursing Honors Students will take Honors sections of fundamental science courses in the College of Science and Health and upon completion of all prerequisites; they will continue their studies with nursing courses.
The Track is Ideal For:
Nursing Majors who expect to continue their education to the masters and/or doctoral level with a minimum 3.0 GPA

Nursing students interested in becoming a generalist nurse

Nursing students interested in working within the healthcare system acting as a novice evidence-based practicing nurse
Curriculum:
In addition to the general nursing courses, the Nursing Honors Track students are expected to complete several nursing courses at the honors level: Critical Thinking Honors and Leadership Seminar Honors. There are three additional courses that the Nursing Honors Track students must complete that are specific to the Track: Evidence-based Clinical Practice, Nursing Research Honors, and the Independent Research Seminar Honors.
The Evidence-based Clinical Practice and the Nursing Research Honors courses will prepare the Nursing Honors students for the Independent Research Project that they will implement with their professor during the Independent Research Seminar the last semester of their senior year.
What projects have students completed in the past?
Students in the Nursing Track have produced theses with the following titles:
| | | |
| --- | --- | --- |
| Thesis Title | Student Name | Year |
| Self-efficacy in Older Adults in Long-term Care Facilities or Senior Centers | Emily Brower | 2015 |
| The Effect of Spirituality on coping with stress | Sarah Hastings | 2015 |
| The Relationship Between Animal Assisted Therapy and Perceived Stress in College Students | Jasmine Lao | 2015 |
| Procrastination through social media and its effects on GPA | Briana Lichtenberger | 2015 |
| Non-Prescriptive Use of ADHD Medication and Self-Efficacy | Anushka Lobo | 2015 |
| Relationship Between Video Games and Violence | Matthew Louie | 2015 |
| The Relationship Between Stress at Work and Burnout Among Registered Nurses | Rebecca Lubitz | 2015 |
| Effect of Music Intervention on Stress Perception in College Students | Rex Magbanua | 2015 |
| Personality, Self-Efficacy, and Happiness | Sara Mangano | 2015 |
| Alcohol Consumption and Stress Levels in College Students | Trishia Omana | 2015 |
| Burnout in Nursing Faculty Members | Andrea Romero | 2015 |
| Academic Procrastination and Problematic Internet Use | Dallas Smith | 2015 |
| Relationship Between Stress and Mobile Video Gaming | Denise Sy | 2015 |
| The Effect of Exercise on Stress | Mizuki Tanaka | 2015 |
| Is Religiosity/Spirituality Related to Perceived Stress in College Students? | Delecia Brown | 2014 |
| Technology's Effect on Academic Performance | Natalie Del Guidice | 2014 |
| The Relationship Between Sex Education and Sexual Knowledge, Sexual Attitudes, and sexual Behavior in College Age Individuals | Lauren Ensley | 2014 |
| The Views and Attitudes towards Influenza Vaccines and How it Affects Vaccination Decisions in College Students | Jeffrey Lao | 2014 |
| Early Onset Health Education and Smoking Behaviors | Jeanine Marinello | 2014 |
| The Effects of Body Shape on Academic Performance | Alexis Martinez | 2014 |
| The Relationship Between Amount of Exercise and Stress Levels in College Students attending a Public University | Brianna McPartland | 2014 |
| The Relationship Between Alcohol Consumption, Quality of Life, and Grade Point Average in College Students | Tanya Monroe | 2014 |
| The Relationship of Sleep Quality and Stimulant Use to Academic Performance | Kristian-Neil Urbina | 2014 |
| The Relationship between spirituality, anxiety, and depression among four year BSN students studying at universities in New Jersey | Lauren Boyton | 2013 |
| A Comparison of Course Delivery Methods in Nursing Education: Student Satisfaction, Perceived Stress, and Anxiety | Min Kyung Kang | 2013 |
| The Effectiveness of Electronic Medical Record System and It's Correlation with the Quality of Nursing Care | Christopher Klobus | 2013 |
| The Correlation of Attitudes Towards Mental Illness and Social Distance | Kristine Malig | 2013 |
| Exercise, Risk for Anxiety, & Risk for Depression | Tenzin Y. Nelung | 2013 |
| Perceived Stress, Social Support, and GPA in College Students | Nhat Minh Nguyen | 2013 |
| The Effect of Physical Activity on Self-Esteem | Kristina Palermo | 2013 |
| Mood Risk for Depression Among College Students: Living on Campus versus Living at Home | Hannah Vallangca | 2013 |
| Crohn's Disease in Adult Men and Women and the Relationship between Fatigue, Anxiety, and Quality of Life | Erin Wydner | 2013 |
| Relationship between Perceived Stress, Sleep Quality, and Dietary Habits in Nursing Students | Sandra Zavala | 2013 |
| Pet Therapy and Stress in College Students | Rebecca Couper | 2012 |
| HIV/AIDS Knowledge and Testing Among College Students | Elisa Di Bianco | 2012 |
| Examining the relationship between alcohol use and religiosity in college students | Amanda Gaetano | 2012 |
| Nutritional Knowledge and Healthy Diets | Tenzin K. Nelung | 2012 |
| Among College Students, What is the Relationship Between Sleep Quality and the Factors Age, Gender, GPA and Chosen Major? | Christina Niotis | 2012 |
| College Students' Academic Major's Affect on Stress and coping | Amanda Paul | 2012 |
| Does a Person's Perception of their Risk for Diabetes affect their Lifestyle Choices? | Catherine Paul | 2012 |
| Risk for Depression and Migratory Grief among Recent Immigrant College Students | Caressa Valdueza | 2012 |
| Exercise Amount and Fatigue Levels among College Students | Rebecca Van Vugt | 2012 |
| Palliative Care End on Life | Lauren Randolph | 2011 |
| A Comparative Study of the Use of Visualization in Tibetan Buddhist Religious and Medical Practice and in Contemporary U.S. Health Care | Jean Piuck | 1987 |

To enroll in the Nursing Honors Track, contact the Director, Dr. Jill Nocella, at (973) 720- 3483 or at NOCELLAJ1@wpunj.edu. You could also contact Jan Pinkston at (973) 720-3776 or at pinkstonj@wpunj.edu. A completed track application must also be submitted to the Honors College.
How do I enroll?
About the Track Director:
Dr. Jill Nocella holds a Doctorate in Nursing Research and Theory Development from New York University and a Masters in Nursing from the Pennsylvania State University. She has worked extensively in the managed care environment in the areas of preventive health, quality management and case management. She is a clinical nurse specialist in community health as well as a complex case manager. Her primary research interest is focused on quality of care, specifically the role of nurses in clinical and utilization outcomes of patients with chronic conditions. She has presented her research at the Eastern Nursing Research Society and NYU Langone Medical Center.
Her publications include:
Dickson, V. V., Nocella, J., Yoon, H. W., Hammer, M., D'Eramo-Melkus, G., & Chyun, D. (2013). Cardiovascular disease self-care interventions, Nursing Research and Practice, 407608, 1-16.
Nocella, J. (2013). Telehealth in The Encyclopedia of Eldercare (3rd edition), Capezuti, Malone, Katz, Mezey. Springer Publishing Company.