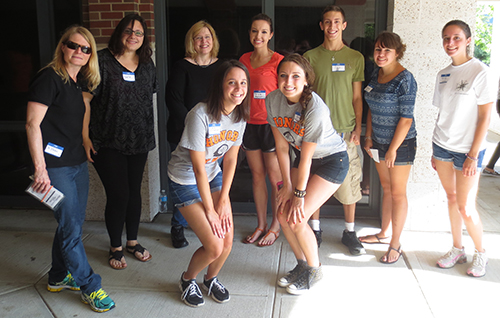 Honors College:
The Honors College publishes a newsletter several times per semester. Click

here

to get the latest news.

9/17

The Annual Honors Ice Cream Social will take place on Wednesday, September 17th from 2:00pm-4:30pm at the Hobart Manor Terrace (In case of inclement weather, Hobart Manor Second Floor). Be sure to save the date!


9/18

Convocation (for first year students only), will take place on Thursday, September 18th from 12:30pm to 1:45pm. First year students should refer to their first-year seminar classes for more information about this mandatory event.



The university offers a wide range of opportunities to students who are looking to get involved in campus and community life. A variety of activities ranging from food drives to hiking trips are planned to help students build community and interact with peers, faculty, and staff. Click here for a sampling of upcoming campus events. Remember, your semester can be anything that you want it to be. Be sure to get involved and make this one count!
Paperwork Deadlines:
12/15 Graduating Student Information Forms for all students doing thesis research in the Fall Semester due to the Honors Office
2/1 Graduating Student information Forms for all students doing research in the Spring or Summer Semesters due to the Honors Office
5/1 All Honors theses and signed theses form are due to the Honors Office for all students who will participate in Convocation
5/1 Thesis Proposal Forms for all students doing research in the Spring Semester signed by advisor and Track Director due to the Honors Office
Honors Club:
9/16

The first Lunch in the Lounge of the semester will be held on Thursday, September 11th at 12:30pm in the center lounge on the fourth floor of High Mountain East. All students (both residents and commuters) are invited to attend. Please join us for pizza and conversation. During this meeting, we will be discussing the Honors Club. The Honors College Club is open to members of WPU that are interested in furthering their knowledge. It is sanctioned by the Student Government Association, and our club enjoys hosting trips to theaters, museums, cultural events, and lectures using funds received from the SGA.
Interested in nominating someone you know for a position on the Honors College Club Executive Board? Click on the link to download a nomination form. For more information about available positions, please see Honors Weekly Announcements email. Candidate Nomination Form
Campus News:
10/31

The Counseling, Health, and Wellness Center is recruiting students interested in becoming Peer Health Advocates. The Peer Health Advocates program provides health related educational programming that enhances the healthy decision making of students on our campus. The deadline for the submission of applications is Friday, October 31st. Please see Honors Weekly Announcements for more information.

11/5 Last Day to Withdraw from a Course for Fall 2014 Semester