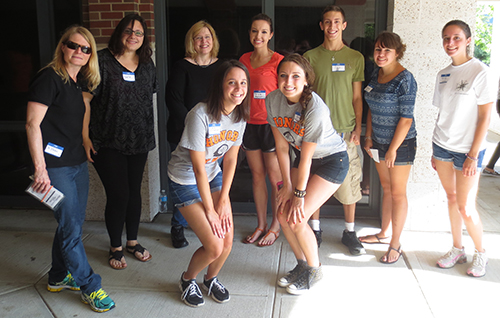 Honors College:
The Honors College publishes a newsletter several times per semester. Click

here

to get the latest news.

12/10 The Honors College will be hosting its annual Holiday Party and Ugly Sweater Contest on Wednesday, December 10th from 2:00pm to 4:30pm. The Holiday Party will be held in Hobart Manor, second floor. Join us for festive fun, light refreshments, music, and prizes!
1/15 The Honors College is searching for a new logo. Tune into your creative side and submit original designs to honors@wpunj.edu by January 15th, 2015. The designer of the winning logo will receive a $50 gift certificate to the campus book store and a free article of Honors apparel. Please monitor your email for additional information.

The Honors College would like to thank all who participated in the Honors College and Honors Club Coat Drive. Donations were brought to Passaic County Headstart Program on Monday, November 17th. In total, 64 coats and 88 winter accessories were collected!
Paperwork Deadlines:
12/15 Graduating Student Information Forms for all students doing thesis research in the Fall Semester due to the Honors Office
2/1 Graduating Student information Forms for all students doing research in the Spring or Summer Semesters due to the Honors Office
5/1 All Honors theses and signed theses form are due to the Honors Office for all students who will participate in Convocation
5/1 Thesis Proposal Forms for all students doing research in the Spring Semester signed by advisor and Track Director due to the Honors Office
Honors Club:
The Honors Club is now on Instagram and Twitter! Be sure to follow us at

https://twitter.com/WPU Honors

and

http://instagram.com/wpu Honors

.

The Honors Club is still in need of a Public Relations Coordinator to join the Executive Board Team. If you are interested in applying for the position, please contact President Brandon Reis at reisb1@student.wpunj.edu.

The Honors club is looking for creative volunteers to participate in the Holiday Mail for Heroes Program. For all those interested in making Holiday Cards for Soldiers, please join the Honors Club on Thursday, December 4th, at 12:30pm in High Mountain East (4th Floor). Light refreshments will be served.
Campus News:
The public honors college, St. Mary's College of Maryland, is offering a 24-night study tour to Greece this June. Please see your Honors Weekly Announcement email for more information.


Study Abroad Opportunities: The Northeast Regional Honors Council is offering scholarships to Honors students wishing to participate in Partners in the Parks, Honors Semester, and Winterterm experiences. A complete list of experiences covered by these funds can be found at http://nrhchonors.org/?page_id=1337. The deadline to apply for these scholarships is December 15th. If you are interested in applying, please use the following link to access the application: http://nrhchonors.org/?page_id=1684. Don't miss the chance to experience these enriching opportunities!