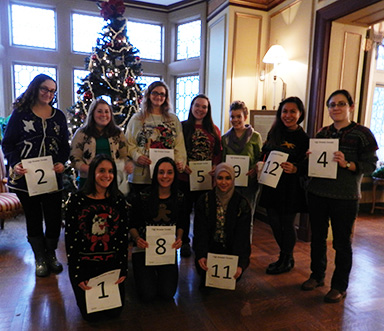 *Photo courtesy of Honors Student Rachael Segal
Honors College:
The Honors College published a newsletter several times per semester. Click here to get the latest news.
Honors Week 2014 is here! This year, student presentations will be held on April 8-10. Click here for a complete presentation schedule. Please be sure to monitor your William Paterson e-mail account for important Honors Week updates and information.
Paperwork Deadlines:
5/1 All Honors theses and signed theses forms due to the Honors Office for all students who will participate in the Convocation Ceremony.
5/1 Thesis Proposal Forms for all students doing thesis or project research in the Spring Semester signed by adviser and track director due to the Honors Office
Honors Club:
The Next Lunch in the Lounge will be held on Thursday, May 1st. The meeting will take place at 12:30pm in Raubinger 154.
Campus News:
Live. Learn. Intern. in Washington D.C. Interested in internship opportunities this summer? Spend a summer interning in the nation's capital and gain that competitive edge. Taking advantage of a Washington, D.C. internship is a valuable investment in your future that will set you apart after college. The comprehensive programs sponsored by the Fund for America Studies include a guaranteed internship placement, courses for transferable credit from George Mason University, and furnished housing conveniently located in George Washington University's downtown campus, just steps from the White House and State Department. Students also benefit from networking events, exclusive briefings, and guest speakers. Click here for more information.
Spend a Semester at the Grand Canyon Northern Arizona University will be sponsoring a semester at the Grand Canyon next fall. Don't miss this wonderful opportunity to study in Northern Arizona's high mountains and the canyons of the Colorado Plateau. For program details and deadlines, click here.

Study Abroad in Akko/Acre Apply for a field experience in Israel this summer and earn up to six credits. Akko/Acre was an important center of medieval Middle Eastern culture at the time of the crusades. The program is designed to give advanced undergraduates a multi-disciplinary approach to studying and immersing themselves in the world of the Crusades. Both land and underwater field experience are being offered. The deadline to apply for this program in March 3rd. Please click here for additional information.

"Partners in the Parks" is an outdoor learning program sponsored by Southern Utah University. This year, the program is sponsoring eight programs across the country aimed at providing honors students and faculty with the opportunity to learn in and about the country's national parks. Projects include historical, scientific, cultural,and recreational components. For more information, visit www.partnersintheparks.org.