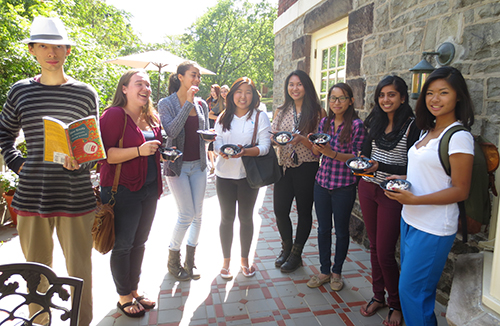 Honors College:
The Honors College publishes a newsletter several times per semester. Click

here

to get the latest news.

2/21

Join Dr. Ronald Verdicchio and the Prospect Park Community Research Team in their time of celebration! The group will be hosting a book talk and signing to commemorate the publication of

Images of America

,

Prospect Park

on Saturday, February 21st, at 2:00pm. Please RSVP to Kelly Ginart at ginartk@wpunj.edu.

3/31

The Honors College is looking for students who are interested in participating in the mentoring program next fall. Please see Honors Weekly Announcements for information about the application process. Applications are due to the Honors Office by March 31, 2015.


Are you interested in contributing to the January/February issue of the Honors Newsletter? Please send your response to the following question to honors@wpunj.edu for a chance to be featured in the "Ask an Honors Student" section: What are you most looking forward to this semester?
Paperwork Deadlines:
5/1 All Honors theses and signed theses form are due to the Honors Office for all students who will participate in Convocation

5/1

Thesis Proposal Forms for all students doing research in the Spring Semester signed by advisor and Track Director due to the Honors Office
Honors Club:
The Honors Club is now on Instagram and Twitter! Be sure to follow us at

https://twitter.com/WPU Honors

and

http://instagram.com/wpu Honors

.

Students interested in Honors Club membership should use the following link to the Pioneer Life page to request membership: https://wpunj.collegiatelink.net/. Please be sure to select the "Honors College Club" link before registering and, note that students who registered during the fall semester should renew and resubmit their request for the spring semester. For more information, please contact the Honors Club President, Brandon Reis, at reis1@student.wpunj.edu.
Campus News:
2/19 Mark your calendars! Please note that on Thursday, February 19, the University will be following a Monday class schedule.
The University of Arizona International Program for Education and Social Action in Guatemala is now accepting applications for summer and fall! Please see Honors Weekly Announcement email for more information.
Interested in spending a Capital Semester in Washington D.C.? Spend a semester in Washington D.C., making an investment in your future that will help set you apart after college! This comprehensive program sponsored by the Fund for American Studies includes a guaranteed internship placement in the fields of international affairs and public policy, courses for transferable credit, and furnished housing in the Capitol Hill neighborhood! Please see the Honors Weekly Announcement email for more information.