Frequently Asked Questions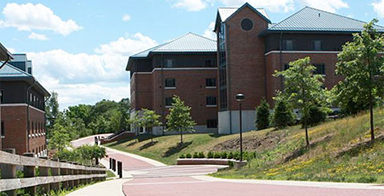 Why should I apply to the Honors College?
Honors Students benefit from small class sizes taught by exceptional faculty. Small class sizes foster individual attention, interactive classes, and many opportunities to collaborate with professors and students.
As part of the Honors College curriculum, Honors Students develop a thesis project. In the past, Honors students have been granted opportunities to travel and present their theses and research at various conferences.
Honors Residence Halls are yet another perk for the students of the University Honors College. Honors Students live as a community (should they choose to) and partake in co-curricular activities, all while maintaining an environment conducive to good study habits!
Honors Students are presented with many opportunities to study in other parts of the United States and to study abroad. They are granted priority registration for the Fall and Spring semesters, and they are recognized at Convocation and Commencement ceremonies. Upon graduation, Honors Students receive special notation of Honors on their transcript and their diploma.
How do I apply to the Honors College?
What is required of students enrolled in the University Honors College?
Honors Students must maintain a cumulative GPA of 3.0 or above. If a student's GPA falls below 3.0 the student will have one probationary semester to raise the GPA to at least a 3.0.
All students in the University Honors College are expected to be enrolled in at least one Honors Course a semester, but most students choose to enroll in more than one.
All students in the University Honors College are expected to regularly check their William Paterson University email accounts for important University and Honors College information. Most information about the Honors College is Shared using email.
Honors Students are required to enroll in and complete an Honors Track. All students will enroll in an Honors Track in their first or second year. Students should be accepted into their track by the time they have completed 60 credits at WPUNJ (exceptions are occasionally made to this rule for students entering the Music Track).
All Honors Students are expected to attend Honors Week events, which are typically held in mid-April. Students should attend presentations made by students in their track. It is important that students understand what a thesis or project presentation entails before they make their presentation.
To graduate with Honors, a distinction noted on the transcript and the diploma, a student must take a minimum of three Honors sections of University Core Curriculum courses, fulfill the requirements of an Honors Track, complete a final project or thesis, and have a cumulative GPA of at least 3.0.
What is an Honors Track?
As members of the Honors College, in addition to a disciplinary major, students are required to declare and pursue an Honors Track. Most tracks are comprised of four to five courses that often overlap with courses from the disciplinary major, or count towards a second major or a minor. Note that Honors Tracks may, but do not have to, parallel a student's disciplinary major.
Students must be enrolled in an Honors Track by their junior year in order to be in good standing in the Honors College. Ideally, students enroll and begin work on their track in their sophomore year, and they complete their thesis before their last semester at William Paterson University.
There are eleven different Honors Tracks to choose from which include: Biopsychology, Business, Clinical Psychology and Neuropsychology, Cognitive Science, Humanities, Independent, Life Science and Environmental Ethics, Music, Nursing, Performing and Literary Arts, and Social Sciences.
For more information about each individual track, visit http://www.wpunj.edu/honors-program/tracks.dot.
What types of Honors Courses are offered?
Most students in their first semester will be enrolled in an Honors Cluster. Clusters bring together three classes around a common theme. The three classes meet separately, and once every week or two, all of the professors and students meet for an interdisciplinary plenary session. First Year Students are assigned to a cluster by the Honors College Director and the Office of the Registrar.
Every semester the Honors College offers Honors sections of several UCC classes. Honors sections are more intense than traditional sections, they rely more upon discussion, and they are capped at 20 students. Before priority registration begins in the fall and spring semester, the Honors College produces a list of Honors sections of University Core Curriculum classes and shares it with students via email. The list of courses is also available to students via the Honors College website curriculum page.
Who advises Honors Students?
Honors Students who have not declared a major are advised by the Director if the University Honors College. Students who have declared a major are advised by a member of their major department and by a member of the University Honors College, typically their Honors Track director.
Students can find the name of their advisor through WP Connect, under the Students tab. They can also stop by the Honors Office to sign up for an additional advisement appointment.
What is the best way to contact the Honors College?
Honors students are encouraged to regularly check their William Paterson email accounts for important Honors College announcements. Announcements and information about upcoming events can also be found on the William Paterson University Honors College Home Page and News Page.

The Honors Office is located in 154 Raubinger Hall. Feel free to stop by should you have any questions! You could also contact us via email at

honors@wpunj.edu

or give us a call at (973) 720-3657.
What is the Honors Club?
The Honors Club is recognized by the Student Government Association and must conform to its guidelines. It is open to William Paterson University students with an interest in the Honors College; although, members need not be members of the Honors College to join the club.
The Honors Club is a social service organization that plans events, community service projects, and outings for Honors students. The club has access to SGA funds, and plans weekend trips to places like Washington, D.C. that are social and educational. Members who are writing Honors theses are encouraged to attend the annual meeting of the National Collegiate Honors Council in the fall semester, and the regional Honors Council meeting in the Spring Semester.
*Take a look through the Honors College Handbook located on the Resources Page for more information about the Honors College.