Honors College
Welcome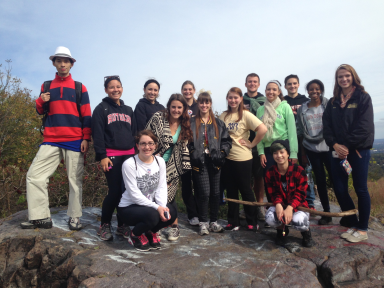 Honors College Mission Statement
The University Honors College at William Paterson University is a place where academically gifted students explore new ideas and engage in intellectual and creative collaborations with experienced and dedicated members of the faculty. The University Honors College offers rigorous curriculum with a challenging array of courses, seminars and co-curricular activities.
The University Honors College offers students a comprehensive educational experience that brings together the academic, residential, social and cultural experiences of its students. The College provides students with many opportunities to receive personalized attention from members of the faculty, in small classes that encourage discussion and debate, in independent tutorials where advanced students work privately with professors in their major area on a thesis or project of their own creation, in the residence living communities that will be visited regularly by professors and staff members, and in social activities that bring together the Honors community.
Students in the University Honors College take advantage of the University's wide ranging offerings, and augment them by developing individualized programs of study. Honors students have greater flexibility in choosing their University Core Curriculum courses and their Honors tracks. Honors students often also pursue minors and double majors. A goal of the University Honors College is to facilitate interdisciplinary study for all students, in first year clusters, in the tracks, and in the thesis.
The University Honors College is a community that includes all students enrolled in Honors University Core Curriculum classes, all students participating in a track, all faculty members teaching in Honors, all faculty overseeing a thesis, and all members of the University Honors College staff.
The Benefits of participating in the University Honors College :
Small, interactive classes with highly qualified professors who are committed to their students
Individual attention and opportunities to collaborate with professors and peers
Development of a final thesis or project with a faculty mentor
Priority registration for all courses
Advisement from both a faculty member of the major department, and a member of the University Honors College
Opportunities to study abroad and throughout the United States with other Honors students
Opportunities to travel to conferences to present thesis or project research
Opportunity to live in an Honors Learning Community in High Mountain East residence hall
Opportunities to participate in co-curricular activities like field trips, outings and social gatherings with Honors students and faculty
Special notation of Honors on degree transcript and University diploma
Recognition as a graduate of the University Honors College at Convocation and Commencement ceremonies
---
Honors Newsletter
The Honors College publishes a newsletter several times per semester. Click here to get the
latest news!
---
Honors Students in the News
Click here to read about Honors students in the news.
---
Priority Registration

Priority registration for the Fall 2014 semester is right around the corner! Click here for some helpful tips for a stress-free registration.
---

---
William Paterson University
300 Pompton Road
Wayne, New Jersey 07470
973-720-2000