Honors College
Curriculum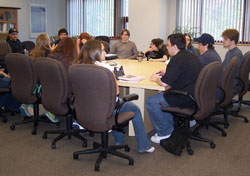 Honors Sections of University Core Curriculum Courses
Every semester, the Honors College offers Honors sections of several University Core Curriculum (UCC) courses. Honors sections are more intense than traditional sections, they rely more upon discussion, and they are capped at 20 students. Before priority registration begins in the fall and spring semester, the Honors College Office produces a list of all Honors sections of UCC courses and shares it with students via e-mail. The list can also be found on the Honors College webpage.
Honors courses are available by permit only. To request a permit, email Honors at honors@wpunj.edu. Please include your name, 855 #, and the course (and course section) that you wish to take.
Spring 2014 Honors UCC Courses
Arts and Communication
COMM 1010-07 Experiencing Theatre – J. Beal -- F, 11:00 - 1:40 CRN# 12641 UCC 2A Expression
A wide-ranging and free-wheeling look at theatre in all its aspects from all sides- script, staging, performing, watching, directing, technical work, historical, contemporary, dramatic, comedic, musical. In short, we try to answer these questions: what is theatre, and why should we care?
COMM 2630-05 Public Speaking – J. Beal -- M, 2:00 – 4:40 CRN# 13290UCC 2A Expression
The course is designed to present students with the skills and the confidence to speak engagingly and successfully in a public forum. During the 14 weeks, students will present 3 speeches: one to inform; one to persuade; and one for a chosen special occasion. Videos and readings will supplement discussion and presentations.
---
Humanities and Social Sciences
ENG 1500-35 – Experiences in Literature -- MW, 11:00 – 12:15 – J. Fisher CRN# 11755 UCC Writing Intensive
This course gives students a sense of a literary tradition unfolding across time in the genres of poetry, drama, essay and fiction. The focus of this particular section will be on the family and literature.
ENG 1500-36 – Experiences in Literature – P. Cioffari -- MW, 3:30 – 4:45 CRN# 11756 UCC Writing Intensive
This course gives students a sense of a literary tradition unfolding across time in the genres of poetry, drama, essay and fiction.
SPAN 1060-70 – Basic Intensive Spanish I and II - O. DelaSuaree, Hybrid course (partially online) In-person class meets -- TR, 11:00-12:15 CRN# 11667
This course offers students the opportunity of completing the university language requirement (6 credits) in one semester by covering the entire first year curriculum in an intensive setting. Cultural activities supplement this unique experience for the exceptionally motivated student.
PSY 1100-06 – General Psychology – J. Mohlman -- MW 12:30 – 1:45 CRN# 11476 UCC 3C Ways of Knowing Social and Behavior Science
This course provides a broad overview of the field of psychology and the study of the human mind and behavior. This online format promotes involvement through an active discussion board and interactive learning modules. A variety of assignments encourage students to translate theories and concepts into a meaningful context related to their own lives and experiences.
WGS 2250-05 – Race, Gender, and Social Justice – C. Sheffield -- MW 2:00-3:15 CRN# 12989 UCC Writing Intensive and UCC 4 Diversity and Justice
In common with standard sections, this course will examine racism, sexism, heterosexism, and classism looking at current laws, historical documents, academic articles, films, and hearing the personal experiences of other students. Engaging the topics, students will read critically, write on complex topics and work at concept development. Such skill development assignments will prepare students for an intensive undergraduate program regardless of major.
ANTH 2020-10 Diversity and Equity in Schools – R. Verdicchio -- R 2:00 – 4:40 -- CRN# 11484 UCC 4 Diversity and Justice
This course uses the anthropological approach to study schools and to understand the relationship between learning, teaching, schooling and culture. Through field-based projects, students will apply the anthropological perspective to explore their own interests in education and to gain a first-hand understanding of the challenges and rewards of teaching in contemporary schools.
ECON 2020-06 – Microeconomic Principles – TR 2:00 – 3:15,CRN # 13252 UCC 3C Ways of Knowing Social and Behavior Science
Concentrates on the basic economic principles relevant to resource allocation. Demand and supply analysis is used to explain at an introductory level two major topics: 1) price determination in competitive as well as imperfectly competitive markets such as monopoly, oligopoly, and monopolistic completion and (2) distribution of income among resources.


---
Science and Health
PHYS 1700-90 – General Astronomy "Retracing Galileo's Steps" – Sat., 5:00 – 7:30 p.m.(Observation, 7:45-10:30 p.m.) (Not designated as Honors in WP Connect, but will count as an Honors UCC course.) CRN# 11606 UCC 3D Ways of Knowing Scientific --
Learn astronomy the way you expect it to be. Held on Saturday evenings, the students shall learn the constellations, star names, nubulae and planets. Students will get to use telescopes for their lab activities and retrace the steps of Galileo, discovering firsthand the wonders of the night sky. No other astronomy class does this at William Paterson. The class will be led by NASA/JPL Solar System Ambassador Jason Kendall, who bring years of stargazing experience and knowledge. Not only will you learn how the moon was formed, but you'll get to see the moon in the sky through a telescope. You'll see the moons of Jupiter and Saturn's rings. You'll see groups of young stars and distant galaxies. This class will teach you the ancient names of the stars, and you'll learn about their awesome nuclear furnaces. Your classroom will be the starry night sky, and your telescope will show you the wonders of Astronomy.
---
Spring 2014 Honors Track Course
Biopsychology
BIO 4740 Neuroscience – TBA -- TBA CRN # TBA
This course focuses on the study of the brain; specifically the integrated roles of the anatomy, chemistry, histology, and electrical activity of the central nervous system. The laboratory component focuses on anatomy and techniques for the study of brain functioning.
BIPY 4900 Human Neuropsychology – TBA – TBA CRN# TBA
This course provides a thorough introduction to the study of the anatomy and functional organization of the human brain in relation to sensory, motor, cognitive, and behavioral functions. Emphasis is placed on understanding higher human cortical functions as a basis for exploring the major brain disorders. Neuropsychological principles form an organizing matrix for the material of the course.
---
Cognitive Science
CGSI 3000 Selected Topics in Cognitive Science – F 9:30 – 12:15 -- L. Lindemann CRN # 13308
In this course, we will examine basic concepts and problems found in several of the disciplines that make up cognitive science. We will begin with a historical overview, a review of brain anatomy and physiology, and explore the impact of the computer metaphor in cognitive science. We will then explore some of the issues within Cognitive Science in depth. Topics will range from theories on how we construct our visual world, to the representation of the self.
CGSI 4010 Honors Thesis I – TBA -- A. Learmonth CRN # 10861
This is a research-based course. Although students will have already been exposed to one research methods course prior to the thesis course, an overview of the logic of research and the methodology will be presented. Research methods open to the students include: computer modeling and simulations, experimental and quasi-experimental designs, qualitative research methodologies, discourse analysis, and thinking out loud protocols. The 'how to' of research will be explored in detail. Students, in consultation with faculty, will select a topic for their research project. The exploration of the research topic will be the primary focus of the course. Formal oral and written presentation of the research proposal will be completed.
CGSI 4020 Honors Thesis II – TBA – A. Learmonth CRN # 10983
This is the second component to the Cognitive Science Honors Thesis. Students will have already selected a research topic for their thesis, and the literature review will have been completed. The focus of this component of the thesis will be on data collection and analysis, and finally on the oral and written presentation of the students' research.
---
Music
MUS 4970 Music Honors Seminar – TBA -- J. Kresky CRN # 12007
This is the forum for basic contact and orientation for students in the Music Honors Track if the University Honors Program. Students are assigned a faculty mentor who meets with the student to plan his/her course of study in Honors, including choices of courses in and out of the Music Department, and to formulate and pursue the student's Honors project.
MUS 4980 Honors Project – TBA -- J. Kresky CRN # 12008
This is the culminating experience in the Music Honors Track of the University Honors Program. It consists of a recital, lecture, paper, report of research, or a combination of these to be determined in consultation with the Music Honors Track coordinator.
---
Nursing
NUR 3500 Nursing Research Honors – R 5:00 – 7:30 -- C. McSherry CRN # 12227
NUR4530 Honors Research Seminar – TBA -- TBA CRN # 12502
---
Social Sciences
SSH 2020-01 Social Science Honors Seminar II – T: 2:00 – 4:40 -- N. Kressel CRN # 13301
This seminar focuses on the various methodologies of social sciences. As in SSH 2010, students read important social scientific studies in the original. An effort is made to use such works, often drawn from scientific journals, as the basis for discussion of the methodological questions. The seminar covers qualitative as well as quantitative approaches.
---
William Paterson University
300 Pompton Road
Wayne, New Jersey 07470
973-720-2000