Thinking About Careers in Social Justice?
On March 27, 2014, the Gandhian Forum and the WPU Career Development Center sponsored a program on social justice careers.
---
Dave Zirin
Sports Writer, Columnist, and Radio Host
Sports and Resistance
March 4, 2014


Dave Zirin, Sports and Resistance, March 4, 2014

Dave Zirin and Student Panel, March 4, 2014
Sports—from the school yard, to college athletics, to professional teams, to the Olympics—provide exercise and entertainment to millions. But sports are also big business. And sports is a social institution that both reflects and confronts many of our most pressing social problems, like racism, sexism, homophobia, and corporate domination.
Sports is thus a social justice question and an arena in which social justice struggles take place. Do sports treat people of all races equally? Are women's sports funded and promoted in the same way as men's sports? Are gays and lesbians second-class athletes? Do team owners subordinate the enjoyment of sports to their profits? How have athletes been able to challenge injustice in sports and in the larger society?
No one is better equipped to discuss these sorts of issues than Dave Zirin.
Dave Zirin is a sports writer, sports columnist, and sports radio host. He is the author of seven books:

Game Over: How Politics Has Turned the Sports World Upside Down (2012).Sports Illustrated said this book "will make you think about what we're really seeing when we watch the games we love."
The John Carlos Story: The Sports Moment that Changed the World (2011). Co-authored with John Carlos, nominated for the NAACP Image Award.
Bad Sports: How Owners are Ruining the Games We Love(2010).
A People's History of Sports in the United States: 250 Years of Politics, Protest, People, and Play (2008), which forms the basis of a documentary co-written and narrated by Zirin called Not Just A Game: Power, Politics and American Sports. He has a second documentary called Race, Power, and Politics in American Sports.
Welcome to the Terrordome: The Pain, Politics, and Promise of Sports (2007).
The Muhammad Ali Handbook (2007).

What's My Name, Fool? Sports and Resistance in the United States (2005).

Dave Zirin writes about the politics of sports for the Nation Magazine, for SLAM Magazine, and for the Progres- sive. He is the winner of Sport in Society and North-eastern University School of Journalism's 'Excellence in Sports Journalism' Award, and has been called "the best sportswriter in the United States," by Robert Lipsyte. Zirin is also the host of Sirius XM Radio's popular weekly show, Edge of Sports Radio.

Dave Zirin knows sports and he knows about social justice.
Following the talk: A panel at which students comment on the presentation and Dave Zirin responds (Shea 101, 2:00-3:00 pm)
Co-sponsored by the Departments of Kinesiology and Political Science, the Race and Gender Project, the Women's Center, the Latin American and Latino/a Studies Program, the College of Humanities and Social Sciences, the College of Education, the Cotsakos College of Business, and the Office of the Provost
---
Jeanne LoCicero
Deputy Legal Director of the ACLU of New Jersey
speaking on
The Path to Marriage Equality
Tuesday, November 12, 2013, 2:00-3:15 pm
Cheng Library Auditorium
William Paterson University
Earlier this very semester – on Friday, September 27, 2013 – a state Superior Court Judge ruled that New Jersey's constitution required the Garden State to allow same-sex marriage. Governor Chris Christie immediately announced that he would appeal the ruling to the State Supreme Court. A decade ago, the legalization of same-sex marriage and even of civil unions seemed impossible, yet today we are on the verge of a historic moment.

How did we get to this point? How did the struggle for marriage equality join other great struggles for social justice across the nation and in the Garden State?

We are pleased to have a leading expert and advocate speak to us on this issue. Jeanne LoCicero is the Deputy Legal Director of the American Civil Liberties Union of New Jersey – the local affiliate of the national ACLU – that works throughout the state to defend liberty and fight for equal treatment, fairness, and privacy rights.

She litigates, advocates, and speaks on a wide range of civil liberties issues, including freedom of speech and religion and the rights of LGBT people, youth, and prisoners. She is a member of the New Jersey State Bar Association where she serves in the Lesbian, Gay, Bisexual and Transgender Rights Section and the Individual Rights Section. She also serves on the Essex

County LGBTQ Advisory Board. LoCicero began her legal career as a legal fellow at the ACLU of Alabama after graduating with highest honors from Rutgers School of Law – Newark. She then spent three years in private practice in New York and joined the ACLU of New Jersey in 2004. In 2012, she was named a "New Leader of the Bar" by the New Jersey Law Journal.
Co-sponsored by the Departments of Political Science, Sociology, and Women's & Gender Studies, the Race and Gender Project, WPU Latin American and Latino/a Studies Program,the Cotsakos College of Business, the College of Education, the College of Humanities & Social Sciences, and the Office of the Provost
[Flyer]
---
Juan González
speaking on
Harvest of Empire:
Immigration and U.S. Foreign Policy
Wednesday, April 10, 2013, 12:30-1:45 pm
University Commons, Ballroom C
William Paterson University
Immigration is changing life in the United States. In this talk, Juan González will discuss the immigrant experience and its challenges, and analyze the connection between immigration and U.S. foreign policy in Latin America.

Juan González has been a journalist for more than 30 years and a staff columnist at the New York Daily News since 1987. He is a two-time recipient of the George Polk Award for commentary (1998 and 2010) and is also the co-host of the award-winning daily radio and television news program, Democracy Now!

He is a founder and past president of the National Association of Hispanic Journalists (NAHJ), and a member of the organization's Hall of Fame. A founding member of the Young Lords Party in the 1970s, and of the National Congress for Puerto Rican Rights in 1980s, Mr. González has twice been named by Hispanic



Business magazine as one of the country's most influential Hispanics and has received Lifetime Achievement Awards from the Hispanic Heritage Foundation, the National Council of La Raza, and the National Puerto Rican Coalition.

Mr. González has written four books: Fallout: The Environmental Consequences of the World Trade Center Collapse; Harvest of Empire: A History of Latinos in America; Roll Down Your Window: Stories of a Forgotten America; and News for All the People: The Epic Story of Race and the American Media, co-authored with Joseph Torres.
From 2:00-3:15 p.m., Ballroom C
Student Panel
exploring the themes of the talk,
with a response by Juan González
with Amanda Clark (HIST), Eric Dolan (POL), Sebastian Escobar (COMM), Edgar Hernandez (PSY/LALS), Carolina James (ENG/EDUC), and Kathleen Revilla (CHEM/ANTH). Chaired by Prof. Sergio Béjar.
See the documentary film based on Juan González's book:
Harvest of Empire
2 Free Public Showings
Cheng Library Auditorium, Tuesday, April 2, 11:00-1:00 pm & April 2, 7:00-9:00 pm
Refreshments provided - All Invited
Co-sponsored by the WPU Latin American and Latino/a Studies-Tinker Lecture Series, the Race and Gender Project, the Departments of Africana World Studies, History, Political Science, and Women's & Gender Studies, the Asian Studies Program, the College of Humanities & Social Sciences, the Cotsakos College of Business, the College of Education, the Ana M. Gomez Memorial Film Series, the WPU Alumni Association, and the Office of the Provost
[Flyer]
---
Norman Finkelstein
speaking on his new book
What Gandhi Says
About Nonviolence, Resistance and Courage
Thursday, October 4, 2012, 12:30-1:45 pm
Cheng Library Auditorium
William Paterson University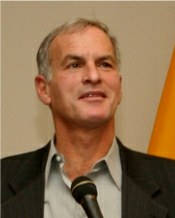 As the Occupy movement and protests have blossomed around the world, there has been new interest in the work of Mahatma Gandhi, who championed nonviolent resistance during the struggle for Indian Independence. But while Gandhi's name has often been invoked, from Tahrir Square to Zuccotti Park, few have actually gone back to examine what Gandhi believed about the relationship between nonviolence, resistance and courage.
Norman Finkelstein has read deeply in Gandhi's collected writings as part of his exploration of how the longstanding conflict between Israelis and Palestinians might be brought to an end. He has found that some of what we think we know about Gandhi's views is incomplete, if not incorrect. Finkelstein's new book is an attempt to clearly lay out the basic principles of Gandhi's approach.
A fuller appreciation of Gandhi's message will be of interest to those concerned about the Middle East as well as the more general struggle for peace and social justice worldwide.
Norman Finkelstein received his doctorate in 1988 from the Department of Politics at Princeton University. He is the author of six books besides this one on Gandhi, including: Knowing Too Much: Why the American Jewish Romance with Israel Is Coming to an End (2012); Beyond Chutzpah: On the Misuse of Anti-Semitism and the Abuse of History (2005, 2008); and Image and Reality of the Israel-Palestine Conflict (1995, 2003).
[Flyer]
[Controversy over Finkelstein]
---
Doug Henwood
(Author, Publisher, Radio Personality)
speaking on
Inequality and the Roots of the Economic Crisis
Tuesday April 10, 2012, 1230-145 pm
University Commons, Ballroom A
William Paterson University
Doug Henwood edits Le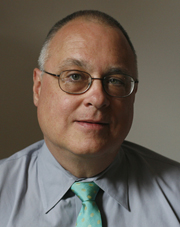 ft Business Observer (LBO), a newsletter he founded in 1986. He is a contributing editor of The Nation, and hosts a radio weekly program that is listened to all over the world. He is the author of Wall Street: How it Works and for Whom, and After the New Economy; The Binge and the Hangover That Won't Go Away.
In this talk, he will investigate the origins of the financial crisis and broad sickness in the real economy as the inevitable fruit of an elite strategy that took shape as the 1970s turned into the 1980s: cutting wages and social spending and transferring money upwards. He contends that our elite has gotten pampered and decadent and is incapable of designing a way out of the mess.
[Flyer]
---
9-11: Ten Years Later
A day of films and discussions reflecting
on 9-11 and war and peace
Monday, September 12, 2011, 9:00 a.m.-5:00 p.m.
University Commons, Room 168 A&B
William Paterson University
On this tenth anniversary of the 9-11 tragedy, we need to consider what we have learned about war and peace from the awful events of September 11, 2001, and from what has taken place in the years since. This day-long series of films and discussions is designed to foster reflection by all of us on the significance of 9-11 and its aftermath. Please join us.
9:30-11:00 "A Soldier's Peace" (2008; 87 minutes; A soldier returns from Iraq to walk the length of Utah, the reddest state in the nation, in protest of the war. Through his walk, he learns about the proud history of protest and dissent in America. With Daniel Ellsberg, Jodie Evans, Amy Goodman, M.C. Hammer, Ron Kovic, etc.)
11:00-12:00 Discussion
12:30-1:10 "Beyond Retribution" (2005, by Peaceful Tomorrows, 35 minutes. Taped in Oklahoma City on the tenth anniversary of the Murrah Federal Building bombing, "Beyond Retribution" captures a roundtable discussion with those who lost family members as a result of 9/11, the Oklahoma City bombing, and the war in Iraq. It is moderated by Father Michael Lapsley, an Anglican priest who lost his hands to a letter bomb sent in response to his work against apartheid in South Africa.)
1:10-1:45 Discussion
2:00-3:30 "Soldiers of Peace" (2008; 85 minutes; 14 stories of people working for peace around the world. Directed by Tim Wise, with Michael Douglas, Sir Bob Geldof, Archbishop Desmond Tutu, Dr Hans Blix, Irene Khan, James Galbraith, Paul Rogers, and others.)
3:30-4:45 Discussion
[Flyer]
---
Rashid Khalidi
Edward Said Professor of Arab Studies
at Columbia University
Prospects for Peace in Palestine
For a video of Prof. Khalidi's talk, click here.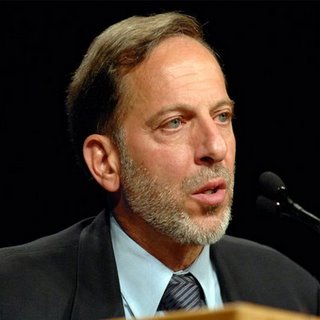 Wednesday, March 2, 2011, 2:00-3:15 p.m.

For more than six decades, conflict has raged between Palestinians and Israelis. War, displacement, terrorism, and occupation have seemed endless, with the occasional peace effort always failing. Is there a road to peace in Palestine? Can a just solution be achieved? What is required of the two parties and what role is there for the United States?
No one is better qualified to address these issues than Rashid Khalidi. Professor Khalidi received his BA from Yale in 1970, and his D.Phil. from Oxford in 1974. He is editor of the Journal of Palestine Studies, and was President of the Middle East Studies Association and an advisor to the Palestinian delegation to the Madrid and Washington Arab-Israeli peace negotiations from October 1991 until June 1993. He is author of, among other works, Sowing Crisis: American Hegemony and the Cold War in the Middle East (2009), The Iron Cage: The Story of the Palestinian Struggle for Statehood (2006), Resurrecting Empire: Western Footprints and America's Perilous Path in the Middle East (2004), Palestinian Identity: The Construction of Modern National Consciousness (1997), The Origins of Arab Nationalism (co-editor, 1991), Under Siege: P.L.O. Decision-making during the 1982 War (1985), and British Policy towards Syria and Palestine 1906-1914: The Antecedents of the Hussein-McMahon Correspondence, the Sykes-Picot Agreements and the Balfour Declaration (1980).
On March 9, 2011, The Beacon, WPU's "independent student publication," published an op-ed criticizing the Gandhian Forum for inviting Rashid Khalidi to speak. The Beacon refused to publish our reply, either as a letter or an op-ed, and the editor-in-chief refused to respond to our request for an explanation. To read our reply, click here.
---
Jo Comerford
New Jersey Out of Balance:
The Impact of Federal Spending
In an Economic Crisis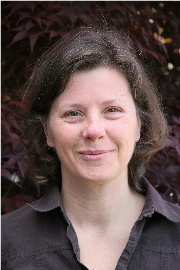 Tuesday, October 5,12:30-2:00 p.m.
We face terrible economic times -- in New Jersey and across the nation. Jobs lost, homes foreclosed, services slashed, tuition sky-rocketing. How do our national priorities affect our local situation? What is the impact of war and military spending on our state economy? What sort of federal budget do we need to address the problems of economic distress, environmental challenge, and global peace and justice? Jo Comerford will address these issues in a talk open to the university community and to the public.
Comerford is the Executive Director of the National Priorities Project, an organization that since 1983 has been analyzing and clarifying federal data so that people can understand and influence how their tax dollars are spent.
Co-sponsored by the Political Science & Anthropology Depts., the Masters Program in Public Policy & Int'l Affairs, the College of Humanities & Social Sciences, the Cotsakos College of Business, and the Office of the Provost.
---
Chris Hedges
Empire of Illusion
Tuesday, February 23, 2009, 12:30-2:00 p.m.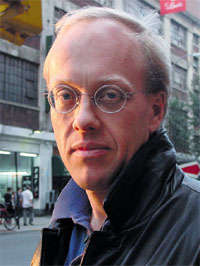 Chris Hedges spent two decades as a foreign reporter covering wars in Latin America, Africa, Europe and the Middle East. He served for eight years as the Middle East bureau chief of The New York Times, where he shared the 2002 Pulitzer Prize for Explanatory Journalism, for coverage of terrorism. His 2003 book reflecting on his experiences as a war correspondent and on what war means for us all -- "War Is a Force That Gives Us Meaning" (2003) was a finalist for the National Book Critics Circle Award for Nonfiction.
Hedges is a senior fellow at the Nation Institute and the Anschutz Distinguished Fellow at Princeton University. He writes a weekly column at Truthdig that should not be missed.
Co-sponsored by the Asian Studies Program, the Latin American and Latino Studies Program, the Race and Gender Project, the Departments of Anthropology, Communication, English, History, Political Science, and Sociology, the College of Humanities and Social Science, the Cotsakos College of Business, and the Office of the Provost.
---
"Practicing Satyagraha in a Violent World: Conversations on Peace and Justice"
October 1, 2009.
Speakers:
Ted Glick, Co-Founder, Climate Crisis Coalition and National Coordinator of US Climate Emergency Council
Manu Bhagavan, Associate Professor of History, Hunter College, NYC
(Co-sponsored by Provost's Office, WPUNJ Asian Studies Program, and Departments of Anthropology and Political Science)
Ted Glick, "Gandhi Today," Oct. 4, 2009
Manu Bhagavan, "A New Hope: India, the United Nations and the Making of the Universal Declaration of Human Rights." Modern Asian Studies June 13, 2008 (download pdf)
---
"Memos to Obama: Prospects for Peace and Justice": A lecture by Rabbi Michael Lerner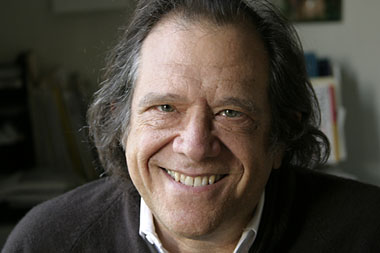 April 27, 2009.
(Sponsored by the Gandhian Forum for Peace & Justice and co-sponsored by the Provost's Office, the Asian Studies Program, the Race and Gender Project, and the Departments of Women's Studies, Anthropology, and Political Science)
---
Teaching Asia Conference
April 23, 2009.
The Gandhian Forum was a co-sponsor of this event and offered a workshop: Teaching Conflict: Conversations and Exchanges, which provided an Interactive session with educator-activists on teaching conflict in South Asia (Kashmir, Sri Lanka, Religious Tensions).
(Co-sponsors: Asian Studies Program, Gandhian Forum for Peace and Justice, Center for the Study of Critical Languages, College of Humanities and Social Sciences, College of Education, Center for Continuing Education)
---
"Why and How to Wage Peace and Justice"
Inaugural Event, Oct. 2, 2008.
Speakers:
Prof. Aftab Seth, Keio University, Japan (ex-Ambassador of India to Japan, Vietnam, and Greece)
Madelyn Hoffman, Director, New Jersey Peace Action (author, educator, community organizer)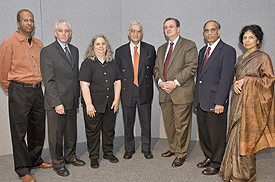 Members of the University administration and faculty and two guest speakers came together for the inaugural event of The Gandhian Forum for Peace and Justice at the University. The forum, which seeks to apply Mahatma Gandhi's beliefs of respect and tolerance to world events, was funded by a gift from Eswar Phadia, a longtime faculty member and the former dean of the College of Science and Health. Present at the October 2 lecture were (from left) Balmuri Natrajan, assistant professor, anthropology, who is the director of the forum; Edward Weil, provost and senior vice president for academic affairs; Madelyn Hoffman, director, New Jersey Peace Action, who spoke at the event; Aftab Seth, Keio University, Japan, and India's former ambassador to Japan, Vietnam, and Greece, who also spoke; Arnold Speert, University president; Phadia; and Maya Chadda, professor, political science.
---