The University solicits nominations for this year's Directors' Council Recognition Awards. The awards will be given out at the summer social event. This year the selection committee will be comprised of the Honorees from the last Awards (if nominated, said member will excuse him/herself from the discussion). Award recommendations will be made using the criteria listed below, although preference will be given to nominees who demonstrate consistent commitment to the Directors' Council.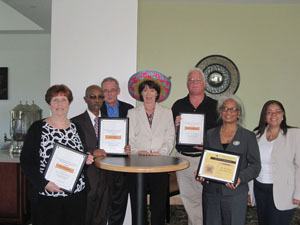 Directors' Council Award Winners for 2012 from left to right: Sharon Rosengart (Innovation); Lirse Jones (Consideration); Steve Hahn, Associate Provost; President Waldron, Robert Fulleman (Collaboration); Nina Jemmott (Special Award); Kim Daniel-Robinson, Chair, Director's Council.
Awards
Each winner will receive a certificate.
Eligibility
All members of the Directors' Council are eligible; thus participating Associate and Assistant Directors are eligible.
Procedures
Nominations may be submitted from any member of the University community.
Members of the Directors' Council may self-nominate
Nominations must state the category of the award intended (Innovation, Collaboration or Consideration) and be limited to a two-page statement describing the program or initiative, the nominee's role and the impact of the nominee's effort
Nominations must be submitted to

Claudia Tormino

in the Provost's Office.
Deadline
Criteria for Selection of Candidates for Recognition
(Recognition Award Criteria Information)

Innovation Award
The recipient of the Innovation Award will be recognized for his or her leadership in a project or initiative that results in an innovative and successful program that advances one or more aspects of University life.

Collaboration Award
Recipients of the Collaboration Award will be recognized for their leadership resulting in a project or initiative that demonstrates the value of synergy and the contribution to the University of collaborative efforts between two or more departments.

Consideration Award
The recipient of the Consideration Award will be recognized for a project or initiative that demonstrates exemplary service to the student body or to other members of the University or to the greater, external community.