Dr. Mihaela Jitianu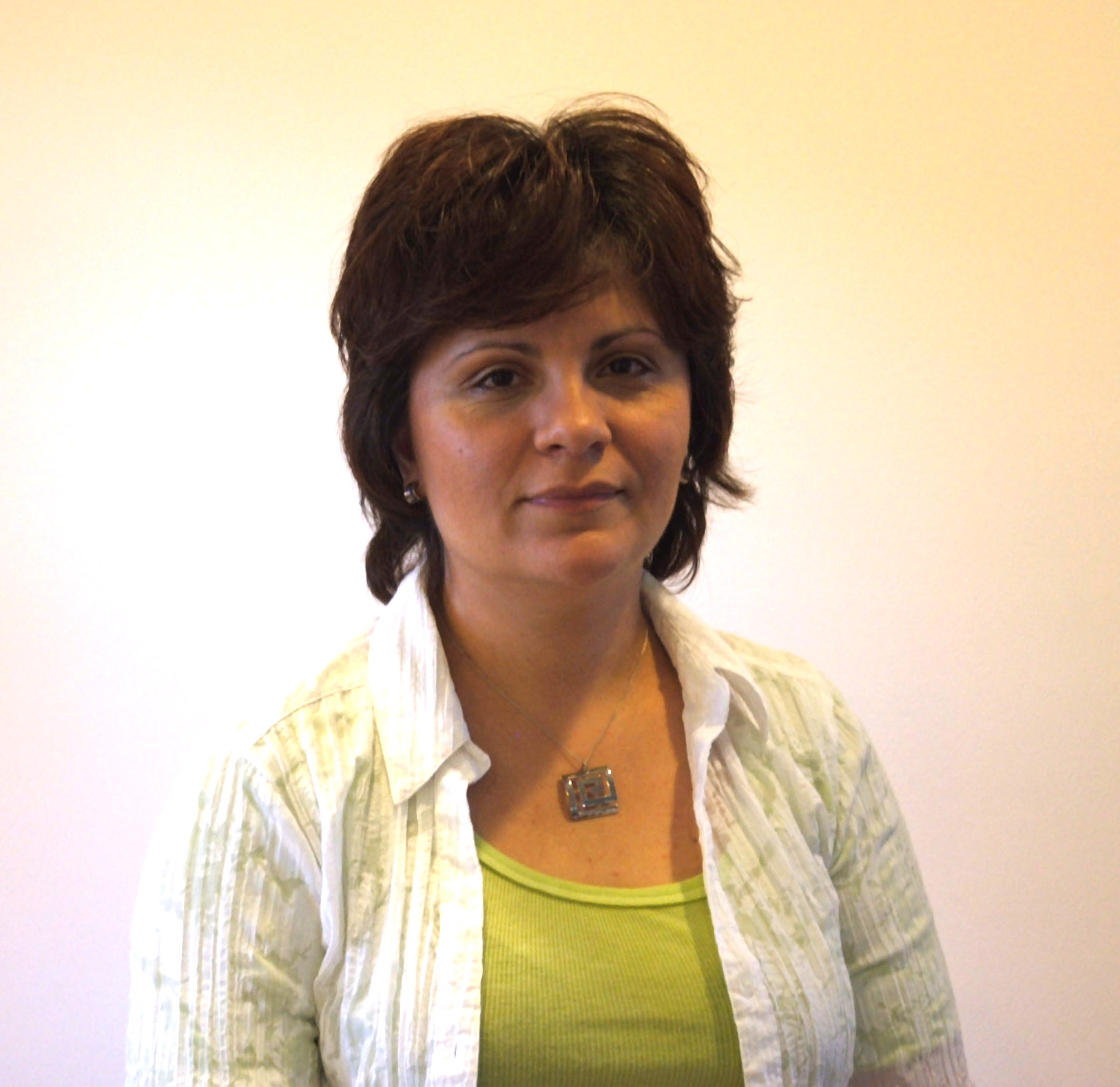 Office: Science Hall East 4056
Phone: 973-720-2539
Email:jitianum@wpunj.edu
Office Hours: Tuesday, Wednesday and Thursday 11AM-12.00PM

Department: Chemistry
Position: Assistant Professor
Area Specialization: Inorganic Chemistry

Research Associate, Rutgers University, Department of Materials Science and Engineering, 2007-2010
Research Associate, Clarkson University, Center for Advanced Processing Materials, 2003-2007
Education
Ph.D. in Chemistry, University of Bucharest, College of Chemistry, 2001
M.S. in Chemistry, University of Bucharest, College of Chemistry, 1996
B.S. in Chemistry, University of Bucharest, College of Chemistry, 1995
Research synopsis
My entire research has been focused generally on materials chemistry on Fuel Cells catalysts and water gas shift reaction catalysts (layered double hydroxides), design of monodisperse particles and rheology of ceramics and polymers.
At William Paterson University, my research program is focused on
1. Rheology of gels, polymers and suspensions
Rheology can be regarded as the science of deformation and flow of materials. Rheological measurements can be used to achieve valuable insights about the micro-structure of various systems, such as: food, personal care, cleaning aids and pharmaceutical products. The challenge is to comprehend the link between the micro-structure and the rheology of a system. Most systems contain irregularly shaped particles with size distribution, droplets in case of emulsions, or branched or highly entangled long chain polymeric molecules in solutions, or loosely formed aggregates of particles in suspensions. At rest, these structures are oriented arbitrarily corresponding to their minimum energy state. As the level of shearing increases steadily, the structural units may respond to stress by aligning themselves in the direction of flow, or by deforming or by means of decomposition of the aggregates into primary particles. Coiled and entangled polymers may become lastly fully straightened out.
2. Controlled processing of nanoparticulate aggregates
The micro-structural changes in aggregates depend upon the relative magnitudes of inter-particle forces. In suspensions of fine particles, the van der Waals attraction forces cause the particles to join with each other on touching, this effect being rather significant in colloidal suspensions, leading to coagulation. In view of the abovementioned link between rheology and structure, it is possible to control the rheological behavior of a colloidal suspension by altering the balance of attractive and repulsive forces.
3. Preparation and fundamental studies of novel anionic clays
The large class of anionic clays, natural and synthetic layered double hydroxides LDHs are less spread in nature with respect to the cationic clays, but they can be synthesized in a wide range of compositions.
These compounds have the general formula [M(II)1-xM(III)x(OH)2]x+Ax/zz- mH2O and a CdI2 type structure, with a partial M(II)/M(III) substitution, the corresponding positive charge being balanced by the interlayer anions. The anionic clays based have many practical applications, being used mainly after calcination; they have interesting properties that lead to applications in the field of heterogeneous catalysis (hydrogenation, reforming, basic catalysts and as catalyst supports).
List of selected publications and patents
Patents
1. 'Method for manufacture of noble metal alloy catalysts and catalysts prepared therewith', Goia, D.V., Lopez, M., Sau, T. K., Mihaela Jitianu, US 2006/0094597 A1 and WO 045606 A1, May 4, 2006.
Peer-reviewed Publications
1. Mihaela Jitianu, Darren C. Gunness, Doreen E. Aboagye, Maria Zaharescu, Andrei Jitianu, "Nanosized Ni-Al layered double hydroxides - Structural characterization", Materials Research Bulletin 48, 2013, pages 1864–1873.
2. Mihaela Jitianu, Andrei Jitianu, Michael Stamper, Doreen E. Aboagye, Lisa C. Klein, "Melting Gel Films for Low Temperature Seals", Mater. Res. Soc. Symp. Proc. Vol. 1547, 2013, pages 81-86. DOI: 10.1557/opl.2013.506.
3. Maria Crisan, Maria Zaharescu, Valluri Durga Kumari, Machiraju Subrahmanyam , Dorel Crisan, Nicolae Dragan, Malina Raileanu, Mihaela Jitianu, Adriana Rusu, Gullapelli Sadanandam, Jakkidi Krishna Reddy, Sol–gel based alumina powders with catalytic applications, Applied Surface Science, Volume 258, 2011, pages 448– 455.
4. Mihaela Jitianu, J.K. Ko, S. Miller, C. Rohn, R.A. Haber, Controlled Processing of Bulk Assembling of Nanoparticle of Titania, Processing of Nanoparticle Materials and Nanostructured Films: Ceramic Transactions, Volume 223, 2010, pages 87-101.
5. Mihaela Jitianu, C. Rohn, R.A. Haber, "The structure of nanoparticulate aggregates of Titania as a function of shear", Processing of Nanoparticle Structures and Composites: Ceramic transactions, Volume 208, 2009, pages 111-122.
6. C. August, Mihaela Jitianu, R.A. Haber, "Effect of Variations in Process Shear on the Mixedness of an Alumina – Titania System", Processing and Properties of Advanced Ceramics and Composites: Ceramic Transactions, Volume 203, 2009, pages 215-228.
7. Mihaela Jitianu, R. Kleisinger, M. Lopez, D. V. Goia, "Preparation of Carbon supported alloyed PtCo nanoparticles for PEM Fuel Cells applications", Journal of New Materials for Electrochemical Systems Volume 10, 2007, pages 67-74.
8. Mihaela Jitianu and Dan V. Goia, "Zinc Oxide Colloids with Controlled Size, Shape, and Structure", Journal of Colloids and Interface Science Volume 309, 2007, pages 76-85.
9. A. Jitianu, M. Raileanu, M. Crisan, D. Predoi, Mihaela Jitianu, L. Stanciu, M. Zaharescu, Fe3O4 - SiO2 Nanocomposites obtained via Alkoxide and Colloidal route, J. Sol-Gel Sci. & Technol. Volume 40, 2006, pages 317-323.
10. V. Fruth, M. Popa, D. Berger, C. Ionica, Mihaela Jitianu, "Phase investigation in the Antimony doped Bi2O3 system", Journal of the European Ceramic Society Volume 24, 2004, pages 1295-1299.
11. Mihaela Jitianu, M. Zaharescu, M. Bãlãsoiu, A. Jitianu, "The Sol-Gel Route in Synthesis of Cr(III)-Containing clays. Comparison between Mg(II) and Ni(II)", J. Sol-Gel. Sci & Technol. Volume 26, 2003, pages 217-221.
12. Mihaela Jitianu, M. Zaharescu, A. Jitianu, "Influence of the obtaining agents in sol-gel synthesis of anionic clays. Structural properties of the obtained materials", Rev. Roum. Chim., Volume 47 (8-9), 2002, pages 715-721.
13. Mihaela Jitianu and V. Fruth, Structural aspects of Antimony Doped Bi2O3", Rev. Roum. Chim. Volume 47 (10-11), 2002, pages 1171-1176.
14. V. Fruth, D. Berger, M. Bãlãsoiu, Mihaela Jitianu, G. Tanase, I. Teoreanu, "Effect of the Sb2O3 addition on the Bi2O3 polymorphism", Key Engineering Materials Volume 206-213, 2002, pages 1357-1360.
15. Mihaela Jitianu, A. Jitianu, M. Zaharescu, D. Crisan, R. Marchidan, "IR structural evidence of hydrotalcites derived oxidic forms", Vibrational Spectroscopy Volume 22, 2000, pages 75-86.
16. Mihaela Jitianu, M. Bãlãsoiu, M. Zaharescu, R. Marchidan, D. Crisan, M. Craiu, "Thermal Behaviour of Hydrotalcite-like Compounds. Study of the resulting oxidic forms." Int. J. Inorg. Mater. Volume 2 2000, pages 287-300.
17. Mihaela Jitianu, M. Bãlãsoiu, M. Zaharescu, A. Jitianu, Al. Ivanov "Comparative study of sol-gel and coprecipitated hydrotalcites", J. Sol-Gel Sci. & Technol. Volume 19, 2000, pages 453-457.
18. C.T. Supuran, A. Scozzafava, F. Mincione, L. Menabuoni, F. Briganti, G. Mincione, Mihaela Jitianu, "Carbonic Anhydrase Inhibitors. Part 57. The topical Intraocular Pressure-lowering Properties of Metal Complexes of a heterocyclic Sulfonamide: Influence of the Metal Ion upon biological Activity", European Journal of Medicinal Chemistry, Volume 34 1999, pages 585-595.