Commencement 2013
Commencement Speaker
2013 Commencement Speaker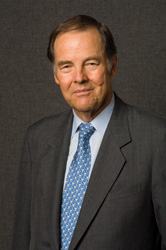 The Honorable Thomas H. Kean, Former Governor of New Jersey
Former New Jersey Governor Thomas Kean has demonstrated a commitment to service on the state and national level, as well as to furthering higher education in New Jersey.
Originally a teacher of history and government, Gov. Kean was elected in 1967 as a Republican to the New Jersey General Assembly. He served in the Assembly for ten years, rising to the positions of majority leader, minority leader, and speaker. He later served as a commissioner on the board of the New Jersey Highway Authority. In 1981, he was elected governor, and was re-elected in 1985. During his two terms in office, Gov. Kean served on the President's Education Policy Advisory Committee and as chair of the Education Commission of the States and the National Governor's Association Task Force on Teaching.
In 1990, Gov. Kean was named the president of Drew University, a position he held until his retirement in 2005. During his tenure there, he served on several national committees and commissions. He headed the American delegation to the U.N. Conference on Youth in Thailand, served as vice chairman of the American delegation to the World Conference on Women in Beijing, and served as a member of the President's Initiative on Race. He also served on the National Endowment for Democracy. He chaired the Newark Alliance and the National Campaign to Prevent Teen Pregnancy and is former chair of the Carnegie Corporation of New York, Educate America, and the National Environmental Education and Training Foundation.
Gov. Kean is known globally for his appointment by President George W. Bush in 2002 as chairman of the National Commission on Terrorist Attacks Upon the United States, widely known as the 9/11 Commission, which was responsible for investigating the causes of the September 11, 2001 terrorist attacks.
More recently, Gov. Kean served as chairman of New Jersey's Higher Education Task Force and was a strong proponent for the passage of the "Building Our Future" Bond Act in 2012 that will provide funds for facilities projects at the state's colleges and universities.
Gov. Kean is a weekly columnist for the Star-Ledger, where he and former Governor Brendan Byrne address issues of the day. He holds a B.A. from Princeton University and an M.A. from Columbia University Teachers College, as well as more than twenty-five honorary degrees and numerous awards from environmental and educational organizations.
William Paterson University
300 Pompton Road
Wayne, New Jersey 07470
973-720-2000