MARY O'NEIL MUNDINGER
Edward M. Kennedy Professor of Health Policy and Dean Emeritus,
Columbia University School of Nursing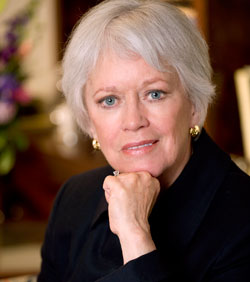 HONORARY DOCTOR OF SCIENCE
Dr. Mary O'Neil Mundinger is the Edward M. Kennedy Professor of Health Policy and Dean Emeritus at Columbia University School of Nursing. During her tenure as dean, Dr. Mundinger gained recognition for her national role on the forefront of educational advances in the field of nursing by developing the first doctor of nursing practice program in the country.
Her efforts have focused primarily on research and policy to increase the recognition and authority of advanced practice nurses, which included the first randomized trial demonstrating that nurse practitioners with special training could provide equivalent primary care to medical doctors. The doctor of nursing practice degree that she pioneered at Columbia University is now established in three hundred schools of nursing. Her contributions to the advancement of nursing have been acknowledged with elected membership to the Institute of Medicine of the National Academy of Sciences, the American Academy of Nursing, and the New York Academy of Medicine.
Dr. Mundinger is the author of three books—Autonomy in Nursing, Medicare Home Care: Too Little, Too Late, Too Costly, and A Path to Excellence: The Columbia Experience—all focused on evidence of nursing's broad competencies and outcomes. She holds a doctorate in public health from the Columbia University School of Public Health.
JOHN "BUCKY" PIZZARELLI
Jazz Guitarist
HONORARY DOCTOR OF FINE ARTS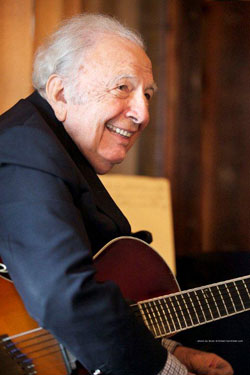 John "Bucky" Pizzarelli is a world-renowned jazz guitarist whose career spans more than seventy years. A native of Paterson, and lifelong resident of New Jersey, he began his career with the Vaughn Monroe Dance Band before a stint in the military, and later was a staff musician for NBC, a member of the band on The Tonight Show Starring Johnny Carson, and toured with Benny Goodman. He has performed with jazz legends such as Stephane Grapelli, Rosemary Clooney, Zoot Sims, Benny Carter, Michael Feinstein, and Charlie Byrd, and can be heard on hundreds of jazz recordings, including his own solo albums and work with his two sons, John and Martin Pizzarelli. He continues to perform and record, most recently working Sir Paul McCartney on the Grammy Award-winning album Kisses on the Bottom.
Mr. Pizzarelli has been honored with numerous awards, including ASCAP's Jazz Wall of Fame award in 2005, and the Lifetime Achievement Award from the Manhattan Association of Cabarets in 2002. In 2011, Mr. Pizzarelli was inducted into the New Jersey Hall of Fame. In addition, he has been recognized for his service to his community; honors include the Rutgers Institute of Jazz Studies American Hall of Fame Award, the Distinguished Artist Award of Bergen County, the Carpe Diem Award from Montclair State University for distinguished achievement in the arts, and the Lifetime Achievement Award from Centenary College's Performing Arts Guild.
He has been recognized for developing his own technique on the seven-string guitar and has written and published three guitar instructional method books. Mr. Pizzarelli became one of the very first musicians in New Jersey to have two of his guitars, along with a recorded history of his lifetime in music, inducted into the Smithsonian Institute in Washington, DC. He has served on the jazz faculty of William Paterson University and continues to give back to his community with various performances throughout the state.
ROBERT H. TAYLOR
Retired Vice President for Engineering, Design, and Construction, AT&T
Trustee Emeritus, William Paterson University Board of Trustees
HONORARY DOCTOR OF HUMANE LETTERS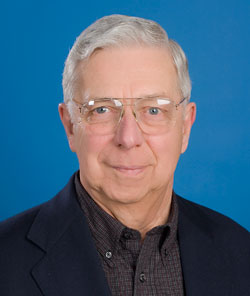 Robert H. Taylor retired in 1987 from his position as vice president for engineering, design, and construction for AT&T. Mr. Taylor worked as a development engineer and then in various management positions during a forty-year career in the Bell System, including thirty-two years at Bell Telephone Laboratories.
Mr. Taylor retired from the William Paterson University Board of Trustees in 2012 after serving on the board with distinction for twenty-two years as board chair, vice chair, and chair of the finance, audit, and institutional development committee, and the nominations and governance committee. He was elected the board's first trustee emeritus in recognition of his commitment to the leadership of the University and for his impact on higher education in the state, as well as his success in the business sector.
A former trustee of Thomas A. Edison State College, Mr. Taylor represented William Paterson University on the board of the New Jersey Association of State Colleges and Universities for eight years, including a term as chair. He has served the community on various boards and associations, and he is an elder of the Presbyterian Church in his community. Mr. Taylor, who served in the U.S. Navy during World War II, earned his bachelor of science degree in mechanical engineering from Yale University.