Faculty Recognition Awards will be presented during the 2013 Commencement ceremony to three faculty for their outstanding accomplishments:
2014 Faculty Award for Excellence in Service
Elizabeth Ekmekjian
Professor of Accounting and Law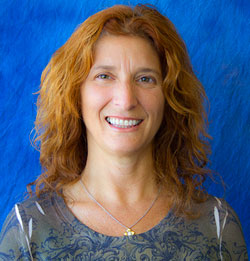 During her nearly fifteen years as a William Paterson University faculty member, Professor Elizabeth Ekmekjian has demonstrated a deep commitment to serving the University community. Among her most significant contributions has been the development and administration of the Professional Enrichment Initiative in the University's Cotsakos College of Business, which requires the college's students to be actively involved in a variety of workshops, seminars, lectures, forums, training sessions, and career development programs. The initiative, open to all University students, has expanded from twenty initial activity offerings to more than one hundred events per semester, providing students with valuable experiential learning and professional development opportunities designed to foster skills needed for the workplace. She regularly organizes events specifically for accounting majors, providing critical mentoring and networking opportunities that lead to internships and jobs. On the University level, she is a member of the President's Blue Ribbon Task Force on Academic Advisement, is the Department of Accounting and Law representative to the Faculty Senate, and is a member of the Career Development Center's Advisory Board, among numerous other committees, and is the former director of the University's Volunteer Income Tax Assistance Program, through which students help prepare tax returns for needy members of the community. A specialist in taxation, Professor Ekmekjian is the author of numerous articles and presentations, and serves as the University's representative to the New Jersey Society of CPAs Educators Committee. A graduate of Upsala College, she holds a law degree from Seton Hall University Law School, and an LLM in taxation from the New York University School of Law. She is a certified public accountant.
2014 Faculty Award for Excellence in Teaching
Kathleen Korgen
Professor of Sociology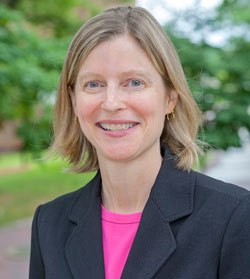 Professor Kathleen Korgen has been dedicated to inspiring students to use the tools of sociology to become active citizens and improve society. A leader in the public sociology movement, she is the co-author, with Jonathan White, of The Engaged Sociologist: Connecting the Classroom to the Community, a textbook used in classrooms across the country that provides faculty and students with numerous assignments and projects designed to make communities and the larger society better. She brings her expertise into her own classes in courses such as Public Sociology and Civic Engagement, the first service learning course developed for the Department of Sociology. In the course, students learn sociological theories, methods, and concepts, and apply them in service learning work at Oasis, a non-profit organization based in Paterson. Professor Korgen teaches a wide range of classes on sociological topics, including social stratification, diversity in America, and the sociology of race and law, as well as courses for the University's Honors College. Known as a challenging teacher, Professor Korgen regularly earns the highest student evaluations; students have described her as "dynamic and passionate about her subject." The author, co-author, or editor of ten additional books and numerous articles, Professor Korgen regularly organizes and participates in conference sessions focused on teaching. She is an active member of the American Sociological Association Section on Teaching and Learning and of its Department Resource Group, whose members provide their expertise to sociology departments across the country. A graduate of the College of the Holy Cross, she holds a doctorate in sociology from Boston College.
2014 Faculty Award for Excellence in Scholarship/Creative Expression
Lily Prince
Professor of Art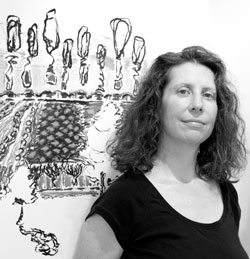 Professor Lily Prince began her career as a photographer before moving into painting and drawing. Working en plein air, she attempts to take what she experiences observationally in nature and translate it into a language of personal expression and universal significance. Her work has recently garnered significant attention, including a 2013 residency at the BAU Institute in Otranto, Italy, where she was one of only two international artists selected for the honor and also exhibited her work. She also was a 2014 artist-in-residence at The Draftsman's Congress at The New Museum. Professor Prince has exhibited widely, both nationally and internationally, including exhibitions in England, Germany, Israel, Poland, New York, Los Angeles, and San Francisco. Recent exhibitions include a solo show, Here, There and Everywhere, at Vassar College; Other Worlds at the Skylight Gallery in New York City; and upcoming exhibitions at the Muroff-Kotler Visual Arts Gallery at SUNY-Ulster and the Showroom Gowanus Gallery in Brooklyn. Her first solo museum exhibition is scheduled for 2016 at the Naples Museum in Naples, Florida. Professor Prince has been awarded commissions by numerous hotels and the New York City Department of Cultural Affairs. Her book of photo portraits with writer Richard Klin's profiles, Something To Say: Thoughts on Art and Politics in America, was published by Leapfrog Press in 2011. Her works have appeared in numerous publications, including the New York Times, New York, The Brooklyn Rail, Star-Ledger, New American Paintings, San Francisco Weekly, The Bloomsbury Review, Rain Taxi, Jewish Currents, Yew Journal, and Chronogram. A catalogue of her drawings, The Ten Plagues, with poems by David Shapiro, was published by The Paterson Museum. A graduate of the Rhode Island School of Design, Professor Prince holds a master of fine arts degree from Bard College and studied at the prestigious Skowhegan School of Painting and Sculpture.