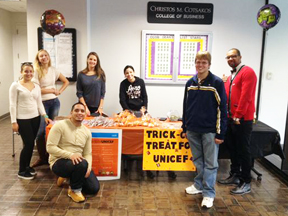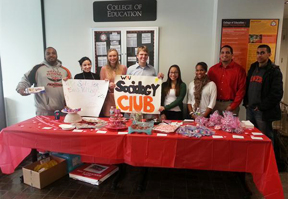 The objective of the Sociology Club is to promote the cultural, educational, and social life and values of Sociology Majors, and students interested in Sociology at the William Paterson Community. Toward this end, the club shall, through its activities, including community service, attempt to present the many specialties and perspectives in sociological theory, and with regard to social problems, and social research. It will also strive to integrate the above student activities with those of other concerned groups on campus, and in nearby communities.
The Sociology Club is open to all Students at WPU. We focus on social issues on campus and in the surrounding communities. The Sociology Club holds events throughout the semester in relation to our main focus, including speakers, career/networking workshops, trips, fundraisers, volunteer work, and community service.
---

Got a Grade Complaint?
The sociology faculty considers itself student-friendly and demonstrates this attitude in many ways. We have one of the lowest out-transfers of majors and surveys taken of our graduating majors reaffirm the positive student-faculty relations in our department. Yet, despite our good intention, students may occasionally run into problems with a professor.
However, learning is a two-way street. Students will get as much out of a course as they are willing to put into it. Some students expect professors to spoon feed them; and when they don't do the assigned reading or come to class unprepared, they are then angered when the professor expresses irritation at their lack of responsiveness.
However, if students feel they have made their best effort and are still experiencing problems, there are several steps they should take. First, they should make an appointment to talk with the professor outside of class. We are generally open to examining our classroom performance and many kinds of misunderstandings can be relieved through a caring and honest exchange. Sometimes we modify our teaching as a result of such exchanges! Students who are afraid to come to the professor for fear of its affecting their grade might be surprised to know that we do not hold such things against them. In fact, we would much rather have the student come to us to discuss the problem than to have it simmer beneath the surface and then erupt in a way that is harmful to all concerned. In the past, such open discussions have almost always been most positive.
If, however, the student tries this approach and gets nowhere, he/she may take the complaint to the Department Chair. Generally, the Chair will try to enable both parties to come to a mutual agreement and understanding.
If students feel they have been given a grade they don't deserve, there are specificied steps they must take. These appear in the Student Handbook on pages 19-21 and must be followed carefully if you wish to receive a fair resolution.
Our thanks to Sheila Collins of the Political Science Department for providing some of the material appearing in this section