Wendy Christensen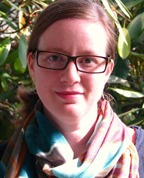 Office: Raubinger 455
Phone: (973) 720-3937
Email:christensenw@wpunj.edu
Office Hours: MW 11 a.m.-1 p.m.; T 4-5 p.m.; and by appointment

Department: Sociology
Position: Assistant Professor & Assistant Chairperson
URL: http://wendyphd.weebly.com/

Wendy M. Christensen received her M.S. (2004) and Ph.D. (2010) in Sociology at the University of Wisconsin-Madison. Her dissertation, titled "Mobilizing Military Motherhood: Negotiating Support, Activism and Politics in the U.S. War on Terrorism," used theories of gender, discourse, and political mobilization to analyze the experiences of mothers of members of the U.S. Armed Forces.
Professor Christensen's research focuses on how political discourse and participation is shaped by social inequalities. She particularly interested in how institutions, like the media, the military, and the family, contribute to the shaping of political engagement. Currently, her work examines how gender, race, and class ideologies organize political relationships for military families in ways that sometimes limit their participation in the political process.
Professor Christensen teaches classes in sociological theory, research methods, political sociology, social inequality and stratification, sociology of gender, sociology of the family, war and military, sociology of culture, news media, and Internet communications technology. Before coming to William Paterson University, Professor Christensen was a Visiting Assistant Professor in Sociology at Bowdoin College.
Peer Reviewed Publications:
Christensen, Wendy M. 2009. "Technological Boundaries: Defining the Personal and the Political in Military Mothers' Online Support Forums," Women's Studies Quarterly 37:1-2.
Christensen, Wendy M. and Myra Marx Ferree. 2008. "Cowboy of the World? Gender Discourse and the Iraq War Debate." Qualitative Sociology 31(3):287-306.
Conference Presentations:
"The Politics of Foot Powder: Depoliticizing Motherhood During Wartime" at the Miniconference on Military Sociology during the Eastern Sociological Society's annual conference in Philadelphia, 2011; and in the Families and the Military panel at the American Sociological Association annual meeting, Las Vegas, 2011.
"Recruiting Mothers: A Feminist Analysis of How Military Motherhood is Defined by the Military and by Mothers Online" Invited Thematic Panel, Feminism and Web 2.0, American Sociological Association annual meeting, San Francisco, 2009.
"The Gendered Homefront: U.S. Military Mothers and the Work of Separating the War from the Warrior" at the American Sociological Association annual meeting, Boston, 2008.
"The Online World as Problematic: Bringing Institutional Ethnography to the Internet" at the Society for the Study of Social Problems annual meeting, Boston, 2008.