Joseph L. DiGiacomo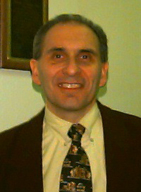 Office: Science 232
Phone: (973)720-3659
Email:digiacomoj@wpunj.edu
Office Hours: By Appointment

Department: Sociology
Position: Adjunct Faculty

Joseph Di Giacomo received his B.A. in sociology from William Paterson University and his M.A. in counseling/psychology from Jersey City State College. He also earned supervisor certification from Rutgers University. Returning to our department in 1998 as an adjunct professor, he teaches Social Problems and Principles of Sociology.
Since 1995, his full-time position has been as a guidance counselor at Bergenfield High School. Prior to that, he taught social studies for seven years at Lodi High School. Mr. Di Giacomo also worked for three years as a guidance counselor at Dumont High School, and for four years as a social studies teacher and vice principal for student affairs at Neuman Preparatory High School.
As a resident of Wayne, he remains close to William Paterson, both at home and when he teaches our sociology classes.