James Mahon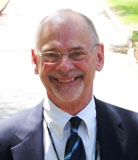 Office: Raubinger 449
Phone: (973)720-3426
Email:mahonj@wpunj.edu
Office Hours: Mon 6-7 P.M., Tues & Thurs-11 am-12 pm, and by appointment

Department:
Position: Associate Professor and Assistant Chairperson

Jim Mahon (Associate Professor and Assistant Chairperson) received his B.S. in mathematics from Lincoln University in Jefferson City, Missouri, and the M.A. and Ph.D. in sociology from the Graduate Faculty at New School for Social Research in New York City. In addition to introduction to principles of sociology, he teaches courses in sociology of religion, both quantitative and qualitative sociological research methods, social demography, and graduate and undergraduate courses in data analysis and sociological theories. He also frequently teaches a seminar section in the First Year Experience program. He is currently serving his second tour on the sociology department's Executive Council, and in 2005 stepped down after four years as Executive Officer of the Eastern Sociological Society.
Mahon's overriding concern in both research and teaching is to work towards a more effective integration of methods, theory, and empirical content in sociological research. His research includes a focus on relationships between geographical migration and changes in church affiliation. This interest grew out of earlier doctoral research that examined the development of the institutional Catholic Church in New Jersey out of disparate European immigrant communities.
Publications include "Diversity on College Campuses Today," with Kathleen Korgen and Gabe Wang in College Student Journal 37(1, March 2003); "Weber's Protestant Ethic and the Chinese Preference for Sons: An Application of Western Sociology to Eastern Religion." in Max Weber Studies 5(1, January 2005); "Social Distance and the 'Tipping Effect' among College Students at a Northern New Jersey University," with Kathleen Korgen and Gabe T. Wang in The Quality and Quantity of Contact: African Americans and Whites on College Campuses , edited by Robert Moore (forthcoming); "Religion and Conflict" in Encyclopedia of Social Problems (forthcoming); "The Da Vinci Code": Ecclesial Governance and Max Weber's Ideal Types of Authority ", to be included in a forthcoming collection of papers from the 2006 History Matters Conference, edited by David Chalcraft; and reviews of Unholy War: Terror in the Name of Islam, by John L. Esposito, in Journal of Contemporary Religion 18(2, May 2003) and Harry, Tom, and Father Rice: Accusation and Betrayal in America's Cold War, by John Hoerr in Labor History (forthcoming).
Dr. Mahon has presented research findings to the Eastern Sociological Society (ESS); the Religion and Culture Workshop at Princeton University; the Association for Sociology of Religion (ASR); the Society for the Scientific Study of Religion (SSSR); the III Encuentro Internacional de Estudios Sociorreligiosos in Habana, Cuba; and the Columbia University Seminar in Contents and Methods in the Social Sciences. He travels frequently to attend academic conferences sponsored by the American Sociological Association (ASA) and the Religious Research Association (RRA) as well as those of ESS, ASR, and SSSR.
Before coming to William Paterson, Professor Mahon completed a 28 year career with AT&T where, in various managerial and technical assignments, he held positions of increasing responsibility for pension funds investment research and planning, information systems development, and manufacturing engineering.
He is married and the father of three adult children: Michele who teaches high school social studies in Allentown, NJ, Mark who is a casualty actuary in Morristown, NJ, and Matthew who is a computer systems support technician at Lakeland Regional Hospital in Lakeland, Florida. Professor Mahon's wife, Emily, after retiring from Lucent Technologies as Marketing Vice President for Latin America and the Caribbean, teaches as an adjunct instructor at William Paterson in both the departments of History and Sociology. She is currently serving as the Executive Officer of the Eastern Sociology while also writing her Ph.D. dissertation in sociology at the Graduate Center, City University of New York.
Professor Mahon jogs, bicycles, and hikes, and is active in the alumni association of his undergraduate college. He listens to classical music and jazz, and has yet to find a book store that he can pass without stopping to browse and buy.