Charley Flint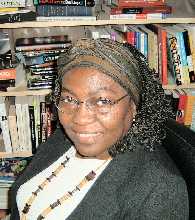 Office: Raubinger 414
Phone: (973)720-2368
Email:flintc@wpunj.edu
Office Hours: TR 11 am-12pm

Department: Sociology
Position: Professor

Charley Flint received her B.S. degree from North Carolina A&T State University, her M.A. and Ph.D. degrees from Rutgers University. She teaches Criminology, Sociology of Corrections, Senior Seminar in Criminal Justice, Internship in Criminal Justice, Gender, Crime and Society and serves as Criminal Justice Coordinator.
Her publications include: "Reaction Essay: Diminished Responsibility as a Systems issue" in Research into Practice: Bridging the Gap in Community Corrections, 2009, Edward E. Rhine and Donald G. Evans (eds.); "Pregnancy, Prisons, and Parenting" in Encyclopedia of Social Problems, 2008, Vincent N. Parrillo (ed.); a book review of White Nation: Fantasies of White Supremacy in a Multiracial Society, in the Journal of International Migration and Integration (2004), "Women and Reentry," The New Jersey Institute for Social Justice, (2004); co-editor of Transforming the Curriculum: Teaching Resources from The New Jersey Project (Teachers College Press, 1995); "Black Women in Higher Education: Forging Ties With Other Women of Color," The Black Scholar: Journal of Black Studies and Research, Fall 1995, 25(4); and "A Psychometric Analysis of Aggression and Conflict- Resolution Behavior in Black Adolescent Males" (with Sherle Boone), Journal of Social Behavior and Personality 16 (1988), 215-226.
She has given numerous papers and lectures at various colleges and universities, professional meetings, conferences and other venues. She has been interviewed on CBS, NBC, FOX, BET as well as in local, national and international newspapers on issues related to race/ethnicity, criminal justice and gender.Her current research interests are on interracial families, women (especially mothers) in corrections, and assessing community-based corrections as an alternative to incarceration. She serves as research consultant to the Juvenile Drug Team of the Superior Court of Passaic County, Family Division.
Prof. Flint is President of the Board of Trustees of the New Jersey Association on Corrections, President of the Board of Directors of the YWCA of Eastern Union County, member of the Board of Directors of the New Jersey Chapter of the American Correctional Association, a peer reviewer for the Journal of Violence against Women, is immediate Past President of the NJ Association of Criminal Justice Educators, and a member of several other social, professional, and community boards.
Her outside interests include renovating her old house and staying at Bed & Breakfast Inns (the older the better). She also enjoys vacationing in off-the-beaten-track places with husband Jeff and sons Matthew and Nathaniel and doing crossword puzzles.