Department of Political Science
Aaron Tesfaye
Office: Raubinger 439
Phone: 973-720-3428
Email:tesfayea@wpunj.edu
Office Hours: Spring 2015: Tuesdays and Thursdays, 11:00-12:00 noon; Wednesdays, 5:00-6:00 pm.

Department: Political Science
Area Specialization: International political economy, comparative politics, public policy, hydropolitics, African politics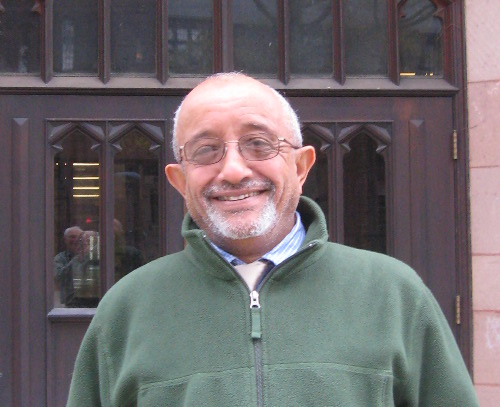 Aaron Tesfaye received his bachelor's and M.P.A degrees from the California State University, Fresno. He earned his Ph.D degree in Political Science from the Center for Politics and Economics, Claremont Graduate University, Claremont, California, in 1996. He began to teach in 1997 in the Departments of Economics and of Political Science at the California State University, Fresno. He is author of The Political Economy of the Nile Basin Regime in the Twentieth Century (NY: Edwin Mellen, 2009) and Political Power and Ethnic Federalism: the Struggle for Democracy in Ethiopia (Lanham, MD: University Press of America, 2002). He has conducted research in India (2006), Venezuela (2005), and in the Nile River Basin (2004). He was a 2010-2011 Fulbright Scholar at Addis Ababa University, Ethiopia, and has also taught at Universidad De Sao Jose, Macau, S.A.R. Peoples Republic of China (summer 2011). Tesfaye is also the author of "The Ethiopian Revolution, 1974-77" in International Encyclopedia of Protest and Revolution, 1500 to Present (Immanuel Ness, ed., Oxford, UK: Blackwell, 2009). He has published articles in the Beijing Review's China Africa Journal, International Journal of Ethiopian Studies, (UCLA's) Globalization Africa Research Center, Journal of the African Union, Ethiopian Journal of Federal Studies, and the Canadian Journal of African Studies. He also contributes articles on African affairs to Znet and Pambazuka News.
Current Scholarly Interest
State Structures and Industrialization
The New Scramble for Africa: the Politics of Land Grab and Extractive Resources.
Courses Taught
POL 225 US Political Economy
POL 230 Comparative Politics
POL 339 African Politics
POL 480 Seminar in Global Environmental Politics
POL 503: Comparative Public Policy
POL 632: International Political Economy