Chess Problems
Stephen R. Shalom
---
Problems 1-10 call for "White to play and mate in 2". To solve these problems, you must find the one move by White such that for any response by Black, White is able to checkmate Black on the next move. If Black is able to delay checkmate until the third move, then the solution is incorrect.
Castling is permitted for White and Black unless it can be proven that the King or Rook must have made an earlier move. Capturing en passant is permitted on White's first move only when it can be proven that Black's last move had to be advancing a pawn from the second rank to the fourth.
Problem 11 calls for "White to play and win". Here you must find a line of play for White that will win against any Black defense. The number of moves for the win does not matter.
Problems 12 and 13 call for White to mate in no more than the given number of moves.
Solutions are given using algebraic notation. The ranks (rows) are numbered from 1 to 8 (starting on White's side of the board) and the files (columns) are lettered from a to h, from left to right. The pieces are given letters: K=King, Q=Queen, R=Rook, B=Bishop, N=Knight, P=Pawn. So, for example, Nb5 means Knight moves to b5, the fifth row of the second column from the left. Captures are indicated with an x; thus Nxb5 means Knight makes a capture on b5. Pawn captures are sometimes indicated by just giving the column where the pawn begins and the column where it ends up: thus, cb means that a pawn in the c column makes a capture in the b column. When necessary to resolve an ambiguity, the starting row or column of a piece is given; thus, R2xc6 means the Rook that started on the second rank captures on c6. 0-0 means castles on the king-side; 0-0-0 means castles queen-side. The symbol + is used to indicate check.
---

White to move and mate in 2
---

White to move and mate in 2
---
by Stephen R. Shalom and Peter Vogel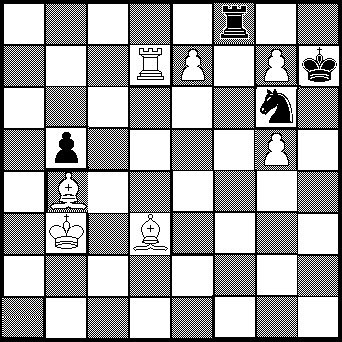 White to move and mate in 2
---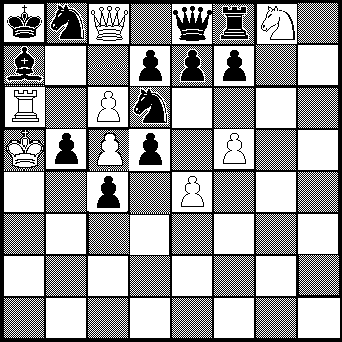 White to move and mate in 2
---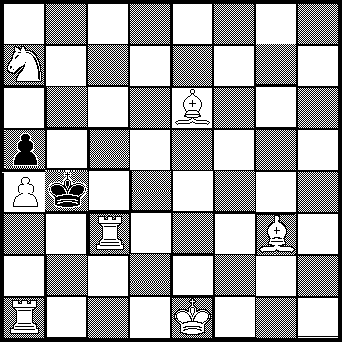 White to move and mate in 2
---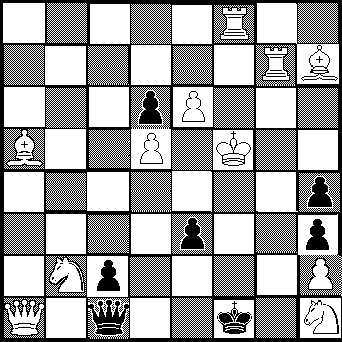 White to move and mate in 2
---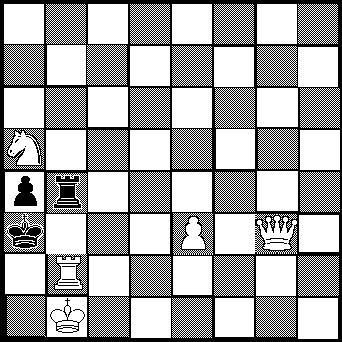 White to move and mate in 2
---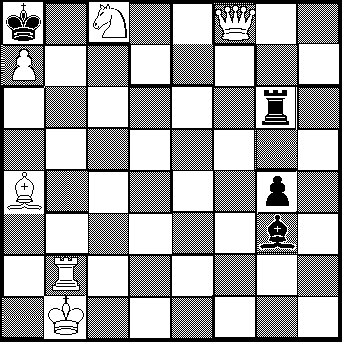 White to move and mate in 2
---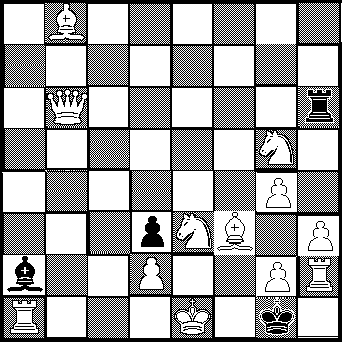 White to move and mate in 2
---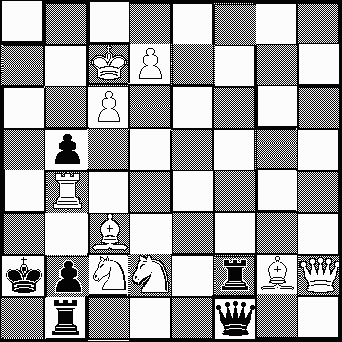 White to move and mate in 2
---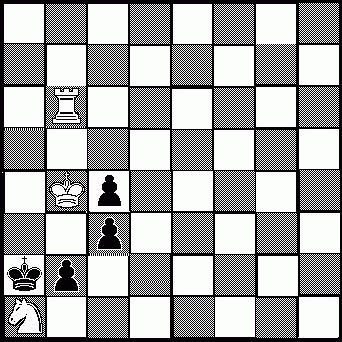 White to move and win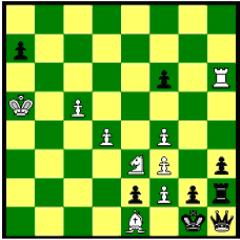 White to move and mate in 7
---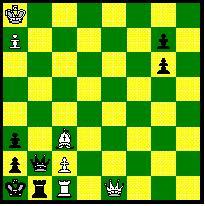 White to move and mate in 5