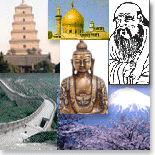 The new Asian Studies Major at the William Paterson University of New Jersey brings together highly qualified faculty and interested students from different departments of the university. With its distinguished faculty's solid and broad background on historical and contemporary Asia, the program provides students with various career goals a multi-disciplinary education in the language, culture, art, anthropology, geography, history, philosophy, political science, and sociology of Asia.
For more information about the program, please contact Dr. Theodore Cook, Asian Studies Program Director, at cookt@wpunj.edu or (973) 720-2243.
Why study Asia? Asian Studies Year End Report, 2012 - 2013
Download a copy of our Asian Studies program brochure in pdf format.