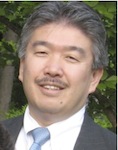 Makoto Yoshida is a director of the Center for Lesson Study (CLS) at William Paterson University. In addition to his role at CLS, he also serves as a president of Global Education Resources (GER; www.globaledresources.com, Madison, NJ). Working at these two organizations, he helps elementary and middle school mathematics teachers to improve their content knowledge and classroom instruction and learning. He promotes and conducts lesson study as a core approach for professional learning of teachers and provides workshops and presentation to enhance the idea.
His doctoral dissertation on lesson study in Japan, presented to the University of Chicago, helped introduce lesson study to the U.S. Yoshida coined the term "lesson study" by translating the original Japanese term "jugyokenkyu" in this dissertation research. He is considered one of the foremost researchers and educators of lesson study in the U.S., and his work is cited heavily in Stigler and Hiebert's book, The Teaching Gap (1999) (Chapter 7, Beyond Reform: Japan's Approach to the Improvement of Classroom Teaching). In addition, Yoshida coauthored a book entitled "Lesson Study: A Japanese Approach to Improving Mathematics Teaching and Learning," (2004) based on this dissertation research on lesson study in Japan with Clea Fernandez of Teachers College, Colombia University. He also co-edited a book entitled "Building Our Understanding of Lesson Study," a comprehensive introduction to lesson study for teachers with Patsy Wang-Iverson. In addition, Akihiko Takahashi (DePaul University) and Yoshida's paper on lesson study, entitled "Ideas for Establishing Lesson-Study Communities," was published in NCTM's journal, Teaching Children Mathematics in 2004. He oversaw the English translation of a series of Japanese elementary mathematics textbooks entitled Tokyo Shoseki's Mathematics for Elementary School (Grades 1-6) to support lesson study in the United States.
Born in Hiroshima, Japan, Makoto came to the U.S. to study at Lewis and Clark College in Portland, OR, where he received his B.A. in education and psychology. He received his M.A. and Ph.D. in education from the University of Chicago.