Tobias Collection | Artists' Books | Sculpture on Campus | Hobart Manor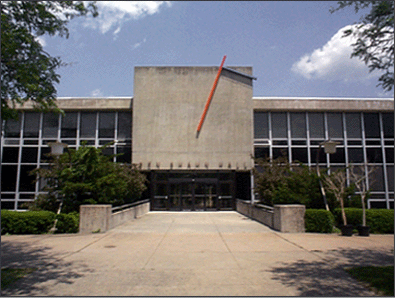 Stephen Antonakos | Lillian Ball | Tom Bills
Rosemarie Castoro | Nancy Cohen | Bill Finneran | Tova Beck-Friedman |
Michel Gerard | Bradsford Graves | Maria A. Hall | Marion Held |
Albert E. Henselmann | Lyman Kipp | Elaine Lorenz | Eliot Miller | Sally Minker | Richard Nonas | Merril Wagner
"Neon for William Paterson College" consists of two neon tubes, one red and one blue, attached to straight metal raceways of matching colors which have been placed at right angles to each other, The work is attached on a slight diagonal to the upper right quadrant of the concrete rectangle above the entry to the Ben Shahn Center for the Visual Arts. It is a drawing in light and color that uses the architectural backdrop as if it were a blank canvas, and it contains, in these two simple lines, all the energy of the painted gesture. But, in the end, it is sculpture in a pure form, a visual sign without symbolic metaphor, a representation only of itself.
The artist, Stephen Antonakos, uses the stripped-down technology of neon tubing to create a stunning perceptual experience. "Neon" is like a poem whose adjectives are supplied by the constantly changing atmospheric conditions surrounding the site. It is by turn soft and warm on the dark, rainy days of autumn, and later, at dusk, quite vibrant. The strong midday sun presents yet a different "Neon," one very much dependent on the supporting raceways for form and color. The immediate physical qualities of the sculpture and its elegant scale and proportions are, at times, surprisingly theatrical and, at other times, as subtle as a distant incantation. Then, there is the object, the materials offered in and of themselves. The pure elements of light, line, form and color, perfectly orchestrated in their simplicity to provide beauty and pleasure to the viewer.
Historically, neon lighting has been used for commercial purposes, and its elevation to use in creating high art does not exclude the open accessible nature of the medium. The populist implication of neon as an art medium open the possibilities of public participation in and dialogue with the art---a goal of the Sculpture on Campus program.
---Nancy Einreinhofer