The Indignant Eye: Prints of Social Protest
East Gallery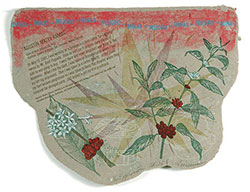 John L. Risseau, La Explosión, 2003, Mixed media on handmade paper

William Paterson University to Host Exhibition and Conference to Commemorate Centennial of the Paterson Silk Strike of 1913
To mark the centennial of the Paterson Silk Strike of 1913, the William Paterson University Galleries will present an exhibition of prints dealing with social justice issues from the eighteenth century to the present day.
The exhibition, "The Indignant Eye: Prints of Social Protest," on view in the University Galleries from April 22 through June 7, 2013, features nineteen works from the print collection within the Special Collection of the Newark Public Library and showcases graphics from the eighteenth century through the present day.
Among the artists whose prints are included in the exhibition are John Sloan and Boardman Robinson, two supporters of the strike whose graphic work was included in The Masses, a socialist monthly published from 1911-17. The exhibition also includes works by Spanish Enlightenment painter Francisco de Goya; the Mexican muralist Diego Rivera, and twentieth century progressives Ben Shahn, Amos Kennedy, and John Risseeuw. "What they have in common, no matter what their historical and ideological differences, is the belief in the social agency of art," says Alejandro Anreus, professor of art history and curator of the exhibition. "Throughout history, there have always been artists who became involved in man's quest for social justice."
The University is also hosting a multidisciplinary conference, which will draw scholars from across the country to discuss the issues, events, and legacies of the strike. The conference will be held on May 20 and 21, 2013, on campus. Presentations and discussions will address numerous aspects of the strike including economic and industrial change, immigrant experiences and cultures, labor activism, and the aftermath of the strike. Steve Golin, professor emeritus of history, Bloomfield College, will present the conference's keynote address.
In the early 1900s, Paterson's mills were famous for producing superior silk. After the introduction of high-speed looms, workers were asked to run four looms instead of two. As a result, a strike by more than 25,000 workers was called in February 1913.
This exhibition is made possible in part by funds from the New Jersey State Council on the Arts/Department of State, a partner agency of the National Endowment for the Arts. The William Paterson University Galleries are wheelchair-accessible. Large-print handouts are available. For additional information, please call the William Paterson University Galleries at 973-720-2654.
Click here for additional information about the Paterson Silk Strike Centennial Conference.
Click here for more information on the Paterson Silk Strike Centennial Alliance.